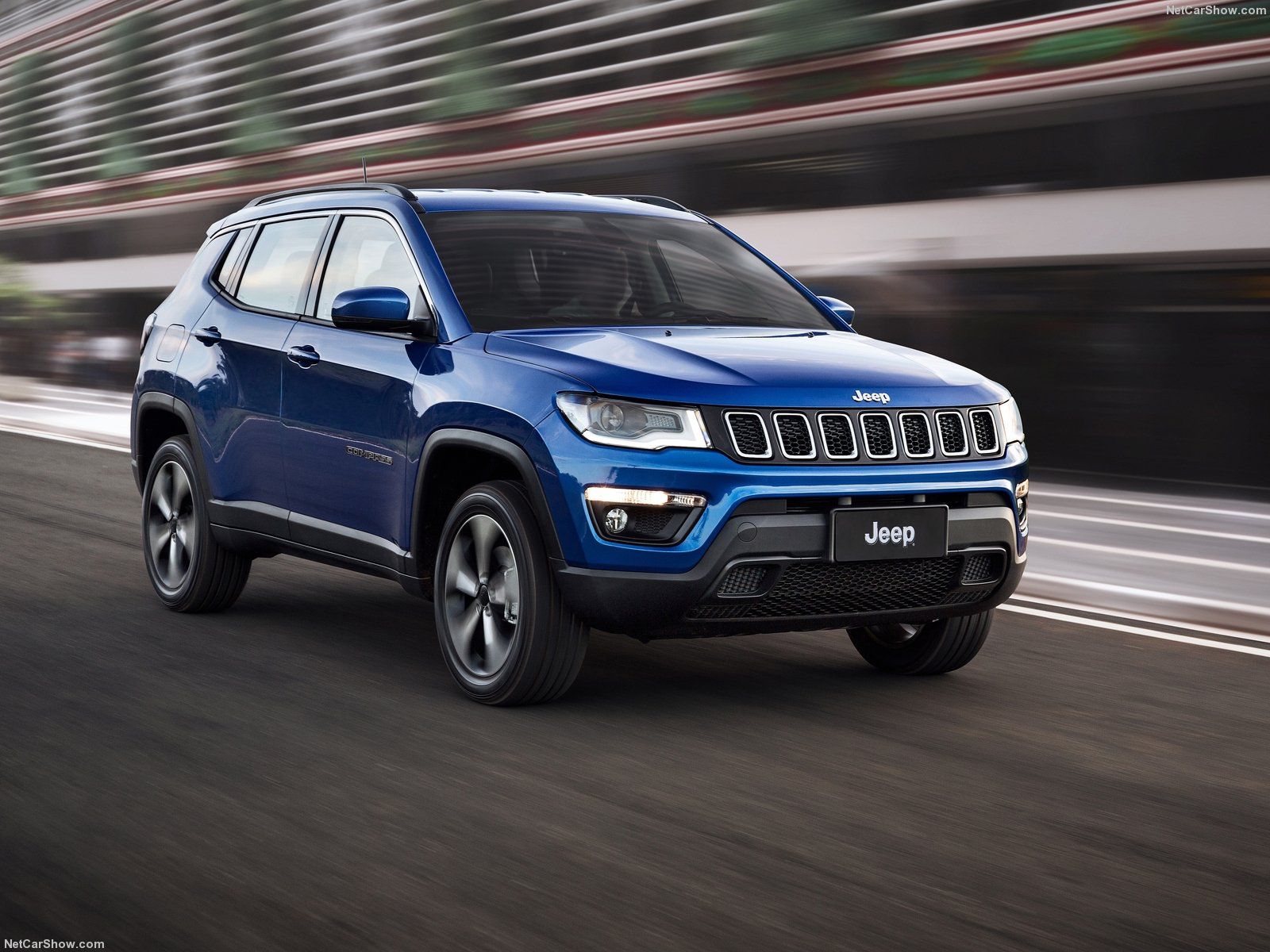 Brazil best selling cars 2017 again dominated by the Chevrolet Onix followed by a growing Ford Ka. Raising stars are the Renault Sandero and the Fiat Toro, new entrance in the Top 10. However the star of the year was the new Jeep Compass, landed in 11th.
Brazilian vehicles market fell from a record of 3.6 million in the 2012, when ranked as 4th globally, below the 2 million in the 2016 with a vertical unprecedented and unexpected fall, originated by the awful National Automotive Plan issued in the 2013 added by economic, social and political crisis. Having bottomed out in the Q1 2017, the market has just approached a new positive path.
In such environment, the ranking of the best-selling cars is showing several news from the final 2016 data, with the outstanding launch and sudden success of the new Jeep Compass, already in 11th place.
However, at the end of the 2017, the leadership was undisputed and under the solid control of the vehicle actually top seller in the entire Latin America, the Chevrolet Onix, sold in Brazil in 188.670 units, a wonderful +23.0%.
In second place the Ford Ka, up 1 spot, with 120.307 sales (+18.8%) overtaking the Hyundai Hb20 with 105.539 sales  (-12.3%).
In fourth place the Volkswagen Gol with 73.919 units (+23.1%) ahead of the Chevrolet Prisma with 68.991 units (+4.0%), the Renault Sandero, up 1 spots, with 67.344 sales (+6.5%)  and the Toyota Corolla, down 2 spots, with 66.183 units (+2.2%).
In eight place the Fiat Strada with 54.872 units (-7.7%)  ahead of the Fiat Mobi, finally joining the top 10, up 12 spots with 54.271 units (+88.9%) and the Fiat Toro, up 4 spots, with 50.726 (+22.9%).
Research, Consulting, Data & Forecast Store
F2M covers intensively this market with several products developed to help any investigation required. Market Researches in PDF are immediately available for download with study on the market since 2005 and with forecast up to the 2022. AutoData in EXCEL are immediately downloadable with annual sales volume, split by month, for all brands and all models distributed in the market. This year data are released year to date, but you will receive a monthly update until the year-end.  See details within  Brazil Corner Store
| Rank 2017 | Rank 2016 | Model | Sales 2017 | Sales 2016 | Variation 2017 |
| --- | --- | --- | --- | --- | --- |
| 1 | 1 | Chevrolet Onix | 188.660 | 153.372 | 23,0% |
| 2 | 3 | Ford KA | 120.307 | 101.278 | 18,8% |
| 3 | 2 | Hyundai HB20 | 105.539 | 120.342 | -12,3% |
| 4 | 8 | Volkswagen Gol | 73.919 | 60.044 | 23,1% |
| 5 | 4 | Chevrolet Prisma | 68.991 | 66.337 | 4,0% |
| 6 | 7 | Renault Sandero | 67.344 | 63.228 | 6,5% |
| 7 | 5 | Toyota Corolla | 66.183 | 64.738 | 2,2% |
| 8 | 9 | Fiat Strada | 54.872 | 59.443 | -7,7% |
| 9 | 22 | Fiat Mobi | 54.271 | 28.731 | 88,9% |
| 10 | 14 | Fiat Toro | 50.726 | 41.283 | 22,9% |
| 11 | 59 | Jeep Compass | 49.187 | 6.599 | 645,4% |
| 12 | 10 | Honda HR-V | 47.775 | 55.758 | -14,3% |
| 13 | 13 | Volkswagen Fox/CrossFox | 42.716 | 43.727 | -2,3% |
| 14 | 19 | Volkswagen Saveiro | 42.422 | 33.950 | 25,0% |
| 15 | 15 | Toyota Etios Hatchback | 41.986 | 40.693 | 3,2% |
| 16 | 191 | Hyundai Creta | 41.627 | | |
| 17 | 26 | Volkswagen Voyage | 40.822 | 26.074 | 56,6% |
| 18 | 11 | Jeep Renegade | 38.330 | 51.567 | -25,7% |
| 19 | 18 | Toyota Hilux | 34.372 | 34.031 | 1,0% |
| 20 | 16 | Volkswagen Up! | 34.213 | 38.354 | -10,8% |
| 21 | 17 | Fiat Uno | 34.165 | 34.626 | -1,3% |
| 22 | 47 | Nissan Kicks | 33.466 | 10.712 | 212,4% |
| 23 | 12 | Hyundai HB20S | 32.232 | 46.023 | -30,0% |
| 24 | 24 | Ford Ecosport | 31.465 | 28.105 | 12,0% |
| 25 | 21 | Toyota Etios Sedan | 31.395 | 29.791 | 5,4% |
| 26 | 25 | Chevrolet S10 | 30.447 | 26.558 | 14,6% |
| 27 | 191 | Fiat Argo | 27.929 | | |
| 28 | 28 | Renault Logan | 26.012 | 23.707 | 9,7% |
| 29 | 32 | Honda Civic | 25.874 | 20.857 | 24,1% |
| 30 | 23 | Honda Fit | 25.350 | 28.439 | -10,9% |
| 31 | 20 | Fiat Siena | 24.957 | 33.478 | -25,5% |
| 32 | 29 | Chevrolet Spin | 24.713 | 22.982 | 7,5% |
| 33 | 31 | Nissan Versa | 23.370 | 21.897 | 6,7% |
| 34 | 30 | Chevrolet Cobalt | 22.949 | 22.467 | 2,1% |
| 35 | 191 | Renault Kwid | 22.576 | | |
| 36 | 6 | Fiat Palio | 20.273 | 63.996 | -68,3% |
| 37 | 33 | Ford Fiesta | 19.285 | 18.623 | 3,6% |
| 38 | 41 | Chevrolet Cruze Sedan | 19.193 | 12.064 | 59,1% |
| 39 | 35 | Ford Ranger | 17.830 | 15.812 | 12,8% |
| 40 | 27 | Renault Duster | 17.794 | 25.373 | -29,9% |
| 41 | 36 | Honda City | 15.976 | 15.422 | 3,6% |
| 42 | 191 | Honda WR-V | 15.353 | | |
| 43 | 37 | Chevrolet Montana | 14.876 | 14.769 | 0,7% |
| 44 | 34 | Nissan March | 14.052 | 18.376 | -23,5% |
| 45 | 191 | Renault Captur | 13.742 | | |
| 46 | 46 | Peugeot 208 | 12.157 | 10.768 | 12,9% |
| 47 | 54 | Chevrolet Tracker | 12.136 | 8.558 | 41,8% |
| 48 | 52 | Volkswagen Amarok | 11.964 | 9.172 | 30,4% |
| 49 | 40 | Toyota Hilux SW4 | 11.718 | 12.168 | -3,7% |
| 50 | 38 | Renault Oroch | 11.047 | 14.245 | -22,4% |
| 51 | 51 | Fiat Fiorino | 10.949 | 9.760 | 12,2% |
| 52 | 48 | Peugeot 2008 | 10.572 | 10.692 | -1,1% |
| 53 | 39 | Ford Focus | 10.514 | 12.288 | -14,4% |
| 54 | 49 | Hyundai ix35 | 10.256 | 10.226 | 0,3% |
| 55 | 50 | Mitsubishi L200 | 9.948 | 9.943 | 0,1% |
| 56 | 42 | Citroen C3 | 9.881 | 11.824 | -16,4% |
| 57 | 191 | Volkswagen Polo | 9.521 | | |
| 58 | 53 | Volkswagen Jetta | 7.669 | 8.655 | -11,4% |
| 59 | 58 | Citroen C3 Aircross | 7.526 | 7.287 | 3,3% |
| 60 | 76 | Chevrolet Cruze Hatch | 7.328 | 3.587 | 104,3% |
| 61 | 60 | Renault Master | 6.185 | 6.383 | -3,1% |
| 62 | 56 | Fiat Doblo | 5.711 | 7.513 | -24,0% |
| 63 | 44 | Hyundai Tucson | 5.097 | 11.203 | -54,5% |
| 64 | 64 | Mitsubishi ASX | 5.020 | 4.717 | 6,4% |
| 65 | 66 | Mercedes C Class | 4.883 | 4.415 | 10,6% |
| 66 | 63 | Mitsubishi Outlander | 4.683 | 4.805 | -2,5% |
| 67 | 74 | Ford Fusion | 4.344 | 3.635 | 19,5% |
| 68 | 77 | BMW X1 | 4.137 | 3.443 | 20,2% |
| 69 | 160 | Mahindra Scorpio | 4.060 | 190 | 2036,8% |
| 70 | 75 | Nissan Frontier | 4.057 | 3.605 | 12,5% |
| 71 | 69 | Hyundai HR | 4.041 | 4.310 | -6,2% |
| 72 | 62 | Volkswagen Golf | 3.996 | 5.966 | -33,0% |
| 73 | 61 | Nissan Sentra | 3.921 | 6.288 | -37,6% |
| 74 | 67 | Audi Q3 | 3.846 | 4.370 | -12,0% |
| 75 | 78 | Mercedes GLA | 3.813 | 3.309 | 15,2% |
| 76 | 65 | Kia Sportage | 3.643 | 4.505 | -19,1% |
| 77 | 57 | Fiat Weekend | 3.532 | 7.302 | -51,6% |
| 78 | 71 | Land Rover Discovery | 3.470 | 3.933 | -11,8% |
| 79 | 72 | BMW 3 Series | 3.312 | 3.795 | -12,7% |
| 80 | 70 | Citroen C4 | 3.270 | 3.989 | -18,0% |
| 81 | 90 | Chevrolet Trailblazer | 3.204 | 1.942 | 65,0% |
| 82 | 145 | Chery QQ | 3.137 | 420 | 646,9% |
| 83 | 73 | Audi A3 sedan | 2.745 | 3.683 | -25,5% |
| 84 | 138 | Toyota Prius | 2.334 | 486 | 380,2% |
| 85 | 85 | Volvo XC60 | 2.284 | 2.144 | 6,5% |
| 86 | 86 | Lifan X60 | 2.222 | 2.037 | 9,1% |
| 87 | 112 | JAC T5 | 2.111 | 923 | 128,7% |
| 88 | 94 | Iveco Daily | 2.090 | 1.826 | 14,5% |
| 89 | 96 | Suzuki Jimny | 2.061 | 1.503 | 37,1% |
| 90 | 110 | Hyundai Elantra | 2.052 | 936 | 119,2% |
| 91 | 89 | Volkswagen Space Fox | 1.982 | 1.956 | 1,3% |
| 92 | 89 | Land Rover Range Rover Evoque | 1.912 | 1.956 | -2,2% |
| 93 | 82 | Mitsubishi Pajero | 1.843 | 2.591 | -28,9% |
| 94 | 55 | Fiat Punto | 1.817 | 7.709 | -76,4% |
| 95 | 191 | Suzuki Vitara | 1.778 | | |
| 96 | 99 | Kia K2500 | 1.650 | 1.372 | 20,3% |
| 97 | 95 | Kia Cerato | 1.575 | 1.609 | -2,1% |
| 98 | 80 | Fiat Ducato | 1.547 | 2.903 | -46,7% |
| 99 | 97 | Troller T4 | 1.504 | 1.453 | 3,5% |
| 100 | 103 | Mini Cooper | 1.461 | 1.084 | 34,8% |
(42)