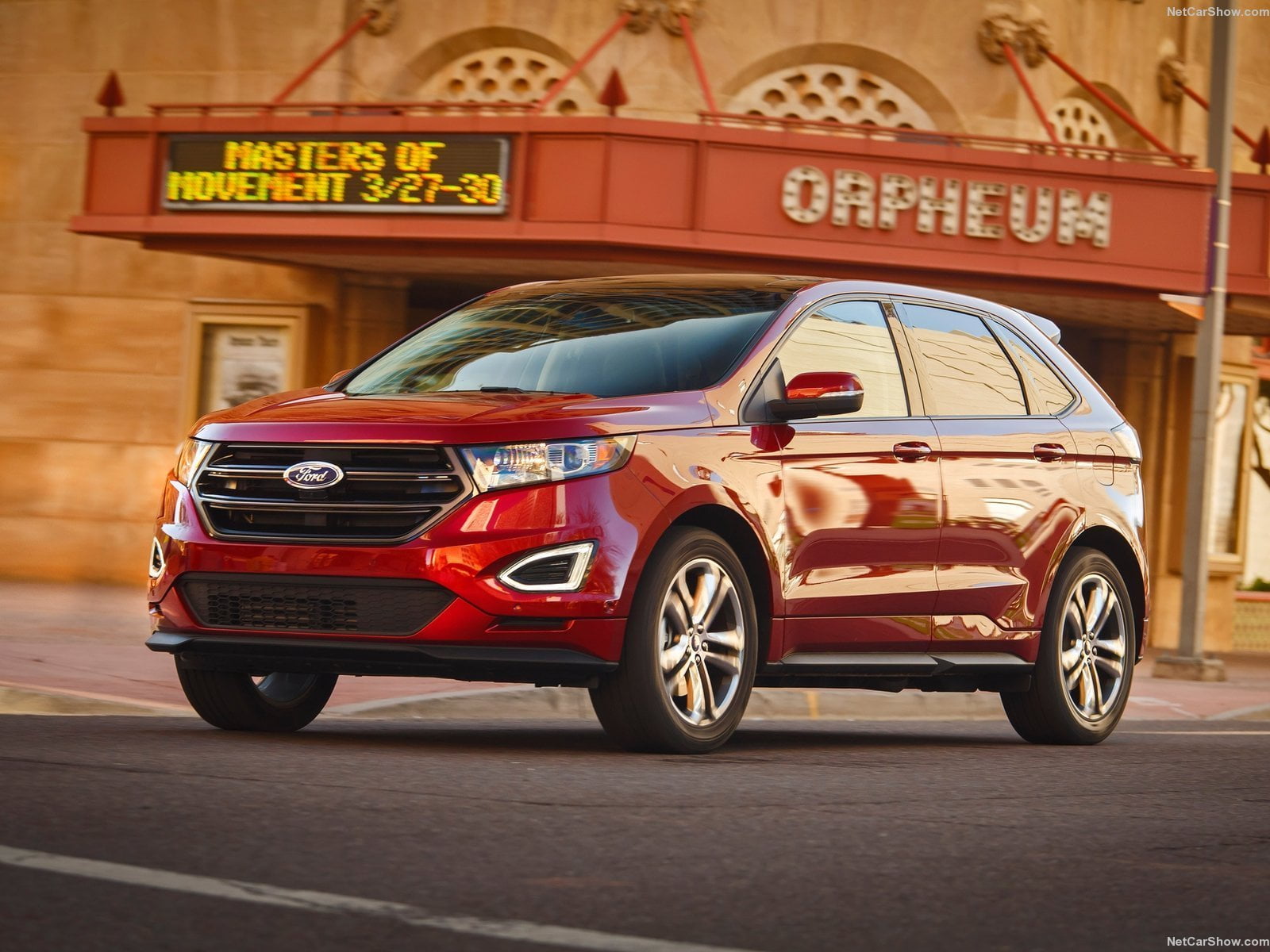 Canada Car Sales in March kept speed hitting the best ever Q1 with volume improved 9 percent. Ford and General Motors shining while FCA brands pushed the brake. The new Ford Edge is the raising star.
Market Outlook
After being 10th in the World rankings last year hitting a new all time record, the Canadian vehicles industry kept momentum in the 2016 projecting the milestone of 2 million vehicles sold already this year.
In the research Canada Vehicles Market 2012-2020 Outlook just developed by the focus2move Automotive Experts, the market is foreseen above the 2 million units within the 2017 but the actual pace will allow to hit it in advance
Indeed, according with data released by the Canadian Transportation Authority, in March the new light vehicles sales had been 175.407, up 9.3%, ending  the first quarter with a total of 403.607 units, up 9.3%, the highest first quarter ever. March was the 26th y.o.y. winning month out of the last 27!
Competitive Arena
In March, Ford sold 25.757 vehicles booming 24.7% with market share at 14.9%. In second Toyota with 16.373 (+12.0%) followed by  Honda with 14.647 (+11.8%), Chevrolet with 14.340 (+24.7%), Hyundai with 13..01 (+2.1%), Nissan with 11.463 (+12.9%), Ram with 8.777 registrations (-12.3%), Jeep with 7.807 (+36.1%), GMC with 7.762 (+6.1%), Dodge with 7.332 (+3.9%), Mazda with 6.046 (-14.0%) and Volkswagen with 5.380 (-22.6%).
Ford kept the leadership in the ranking by manufacturer ahead of FCA respectively with market share at 15.1% and 14.8%. Third was General Motors with 14.0%, followed by Toyota with 9.9%.
On top in the best-selling models, the Ford F-Series registrations had been 13.385 (+34.0%), followed by the Ram Pick-up with 8.540 (-5.0%) and by the Honda Civic with 5.943 (+7.0%). In fourth place there was the Hyundai Elantra with 5.692 (+32.6%) followed by the GMC Sierra with 5.047 (+10.3%) and the Chevrolet Silverado with 4.446 (+8.9%).
To see the detail on the best-selling ranking with the top 100 models, please read the related post.
I you need to see a professional research on the market with data starting from 2004 and forecast to the 2020, see here
Below, you can sort our interactive tables to see data regarding Brands, Groups and Models. Please bear in mind that sales data are subject to adjustments as sources will update their information. This report is updated at the publishing date and will not be modified while the next on this subject will always have the year to date data updated.
| Rank Mar | Rank Q1 | Brand | Mar | Q1 | Mar Var | Q1 Var | Mar% | Q1% |
| --- | --- | --- | --- | --- | --- | --- | --- | --- |
| 1 | 1 | Ford | 25.757 | 59.824 | 24,2% | 20,7% | 14,7% | 14,8% |
| 2 | 2 | Toyota | 16.373 | 39.709 | 12,0% | 9,1% | 9,3% | 9,8% |
| 3 | 3 | Honda | 14.647 | 32.163 | 11,8% | 19,7% | 8,4% | 8,0% |
| 4 | 4 | Chevrolet | 14.340 | 31.328 | 24,7% | 22,4% | 8,2% | 7,8% |
| 5 | 5 | Hyundai | 13.001 | 27.807 | 2,1% | -0,4% | 7,4% | 6,9% |
| 6 | 6 | Nissan | 11.463 | 27.236 | 12,9% | 14,3% | 6,5% | 6,7% |
| 7 | 7 | Ram | 8.777 | 23.550 | -12,3% | 3,2% | 5,0% | 5,8% |
| 8 | 8 | Jeep | 7.807 | 18.883 | 36,1% | 34,7% | 4,5% | 4,7% |
| 9 | 9 | GMC | 7.762 | 17.977 | 6,1% | 11,6% | 4,4% | 4,5% |
| 10 | 10 | Dodge | 7.332 | 16.031 | 3,9% | -13,9% | 4,2% | 4,0% |
| 11 | 12 | Mazda | 6.046 | 13.371 | -14,0% | -4,8% | 3,4% | 3,3% |
| 12 | 11 | Kia | 5.983 | 13.965 | -10,1% | -4,1% | 3,4% | 3,5% |
| 13 | 13 | Volkswagen | 5.380 | 12.196 | -22,6% | -22,8% | 3,1% | 3,0% |
| 14 | 14 | Mercedes | 4.244 | 10.350 | 3,7% | 13,1% | 2,4% | 2,6% |
| 15 | 15 | Subaru | 4.213 | 9.443 | 4,4% | 2,0% | 2,4% | 2,3% |
| 16 | 16 | BMW | 3.065 | 7.652 | 15,2% | 12,2% | 1,7% | 1,9% |
| 17 | 17 | Audi | 2.805 | 5.855 | 42,9% | 25,4% | 1,6% | 1,5% |
| 18 | 18 | Mitsubishi | 2.123 | 4.958 | 23,8% | 23,6% | 1,2% | 1,2% |
| 19 | 19 | Lexus | 1.833 | 4.262 | 1,7% | 1,2% | 1,0% | 1,1% |
| 20 | 21 | Acura | 1.708 | 3.804 | 4,0% | 1,3% | 1,0% | 0,9% |
| 21 | 20 | Chrysler | 1.707 | 3.904 | -3,1% | -25,7% | 1,0% | 1,0% |
| 22 | 22 | Buick | 1.449 | 2.874 | 13,0% | 5,4% | 0,8% | 0,7% |
| 23 | 24 | Land Rover | 1.346 | 2.659 | 85,4% | 60,5% | 0,8% | 0,7% |
| 24 | 23 | Infiniti | 1.138 | 2.780 | 11,0% | 16,4% | 0,6% | 0,7% |
| 25 | 25 | Cadillac | 947 | 2.443 | 1,5% | 24,1% | 0,5% | 0,6% |
| 26 | 27 | Scion | 891 | 1.455 | 135,7% | 98,5% | 0,5% | 0,4% |
| 27 | 26 | Lincoln | 675 | 1.634 | 6,1% | 15,0% | 0,4% | 0,4% |
| 28 | 28 | Volvo | 570 | 1.258 | 73,8% | 53,8% | 0,3% | 0,3% |
| 29 | 30 | Porsche | 535 | 1.090 | 10,3% | 15,1% | 0,3% | 0,3% |
| 30 | 29 | Mini | 495 | 1.099 | 6,5% | 2,4% | 0,3% | 0,3% |
| 31 | 31 | Smart | 263 | 480 | 405,8% | 284,0% | 0,1% | 0,1% |
| 32 | 34 | Jaguar | 228 | 393 | 17,5% | 14,6% | 0,1% | 0,1% |
| 33 | 32 | Fiat | 226 | 438 | -54,7% | -60,6% | 0,1% | 0,1% |
| 34 | 33 | Tesla | 140 | 420 | 40,0% | 40,0% | 0,1% | 0,1% |
| 35 | 35 | Maserati | 41 | 84 | 32,3% | -1,2% | | |
| 36 | 37 | Rolls-Royce | 8 | 24 | -33,3% | -33,3% | | |
| 36 | 37 | Bentley | 8 | 24 | -46,7% | -46,7% | | |
| 36 | 36 | Ferrari | 8 | 25 | -11,1% | -7,4% | | |
| 36 | 38 | Alfa Romeo | 8 | 20 | | | | |
| 37 | 39 | Lamborghini | 6 | 18 | -45,5% | -45,5% | | |
| 38 | 40 | Aston Martin | 4 | 12 | -50,0% | -50,0% | | |
| 39 | 41 | Lotus | 1 | 3 | -50,0% | -50,0% | | |
| 39 | 42 | McLaren | 1 | 2 | | -33,3% | | |
| Rank Mar | Rank Q1 | Group | Mar | Q1 | Mar Var | Q1 Var | Mar% | Q1% |
| --- | --- | --- | --- | --- | --- | --- | --- | --- |
| 1 | 1 | FCA | 25.906 | 62.935 | 3,2% | 1,6% | 26,9% | 19,4% |
| 2 | 2 | Toyota | 19.097 | 45.426 | 13,6% | 9,9% | 19,8% | 14,0% |
| 3 | 3 | General Motors | 10.172 | 40.296 | -51,6% | -13,2% | 10,6% | 12,4% |
| 4 | 7 | Volkswagen | 8.734 | 19.183 | -7,3% | -10,7% | 9,1% | 5,9% |
| 5 | 9 | Mazda | 6.046 | 13.371 | -14,0% | -4,8% | 6,3% | 4,1% |
| 6 | 5 | Hyundai-Kia | 5.996 | 28.784 | -69,1% | -32,2% | 6,2% | 8,9% |
| 7 | 10 | Mercedes Daimler | 4.507 | 10.830 | 8,8% | 16,7% | 4,7% | 3,3% |
| 8 | 11 | Fuji Heavy Industries | 4.213 | 9.443 | 4,4% | 2,0% | 4,4% | 2,9% |
| 9 | 12 | BMW | 3.568 | 8.775 | 13,7% | 10,6% | 3,7% | 2,7% |
| 10 | 13 | Mitsubishi | 2.123 | 4.958 | 23,8% | 23,6% | 2,2% | 1,5% |
| Rank Mar | Rank Q1 | Model | Mar | Q1 | Mar Var | Q1 Var | Mar% | Q1% |
| --- | --- | --- | --- | --- | --- | --- | --- | --- |
| 1 | 1 | Ford F-Series | 13.385 | 32.204 | 34,0% | 24,9% | 7,7% | 8,0% |
| 2 | 2 | Ram Pick-up | 8.540 | 22.336 | -5,0% | 8,2% | 4,9% | 5,6% |
| 3 | 3 | Honda Civic | 5.943 | 12.519 | 7,0% | 19,7% | 3,4% | 3,1% |
| 4 | 4 | Hyundai Elantra | 5.692 | 11.578 | 32,6% | 21,2% | 3,3% | 2,9% |
| 5 | 5 | GMC Sierra | 5.047 | 11.559 | 10,3% | 11,3% | 2,9% | 2,9% |
| 6 | 6 | Chevrolet Silverado | 4.446 | 10.362 | 8,9% | -11,2% | 2,6% | 2,6% |
| 7 | 9 | Honda CR-V | 3.974 | 8.725 | 10,4% | 12,6% | 2,3% | 2,2% |
| 8 | 7 | Toyota RAV4 | 3.970 | 9.589 | 16,0% | 16,8% | 2,3% | 2,4% |
| 9 | 8 | Dodge Grand Caravan | 3.665 | 8.836 | 9,7% | -13,9% | 2,1% | 2,2% |
| 10 | 10 | Toyota Corolla | 3.634 | 8.351 | -8,4% | -7,5% | 2,1% | 2,1% |
| 11 | 11 | Ford Escape | 3.484 | 8.205 | -1,3% | -1,8% | 2,0% | 2,0% |
| 12 | 13 | Nissan Rogue | 2.993 | 7.115 | 3,1% | 6,7% | 1,7% | 1,8% |
| 13 | 12 | Jeep Cherokee | 2.836 | 7.586 | 30,5% | 50,2% | 1,6% | 1,9% |
| 14 | 16 | Mazda3 | 2.457 | 5.188 | -33,6% | -29,7% | 1,4% | 1,3% |
| 15 | 15 | Chevrolet Cruze | 2.294 | 5.695 | 9,3% | 13,1% | 1,3% | 1,4% |
| 16 | 18 | Ford Edge | 2.259 | 4.598 | 275,2% | 146,4% | 1,3% | 1,1% |
| 17 | 17 | Mazda CX-5 | 2.198 | 4.851 | 6,4% | 10,4% | 1,3% | 1,2% |
| 18 | 14 | Hyundai Santa fe | 2.142 | 5.751 | -32,8% | 15,2% | 1,2% | 1,4% |
| 19 | 20 | Volkswagen Golf | 2.038 | 4.202 | 3,5% | -7,7% | 1,2% | 1,0% |
| 20 | 28 | Chevrolet Malibu | 1.826 | 3.275 | 72,6% | 87,7% | 1,1% | 0,8% |
| 21 | 23 | Toyota Camry | 1.813 | 3.908 | 49,7% | 7,5% | 1,0% | 1,0% |
| 22 | 19 | Hyundai Tucson | 1.792 | 4.331 | 15,8% | 25,0% | 1,0% | 1,1% |
| 23 | 22 | Volkswagen Jetta | 1.667 | 3.911 | -44,7% | -39,3% | 1,0% | 1,0% |
| 24 | 21 | Jeep Wrangler | 1.564 | 4.033 | -8,4% | -2,4% | 0,9% | 1,0% |
| 25 | 24 | Chevrolet Equinox | 1.544 | 3.603 | -6,9% | 1,9% | 0,9% | 0,9% |
| 26 | 25 | Nissan Sentra | 1.534 | 3.532 | 7,2% | 59,2% | 0,9% | 0,9% |
| 27 | 26 | Dodge Journey | 1.430 | 3.499 | -26,4% | -25,9% | 0,8% | 0,9% |
| 28 | 27 | Jeep Grand Cherokee | 1.395 | 3.474 | 53,1% | 51,9% | 0,8% | 0,9% |
| 29 | 31 | Ford Focus | 1.317 | 3.049 | -18,5% | -7,7% | 0,8% | 0,8% |
| 30 | 30 | Kia Sorento | 1.309 | 3.204 | -30,5% | -17,9% | 0,8% | 0,8% |
| 31 | 33 | Honda Accord | 1.277 | 2.927 | 11,0% | 25,5% | 0,7% | 0,7% |
| 32 | 31 | Nissan Murano | 1.270 | 3.049 | 69,8% | 62,4% | 0,7% | 0,8% |
| 33 | 35 | Hyundai Accent | 1.268 | 2.827 | -21,6% | -12,2% | 0,7% | 0,7% |
| 34 | 41 | Honda Odyssey | 1.240 | 2.488 | -1,9% | 0,0% | 0,7% | 0,6% |
| 35 | 32 | Toyota Highlander | 1.210 | 2.964 | 44,7% | 43,3% | 0,7% | 0,7% |
| 36 | 40 | Nissan Micra | 1.184 | 2.536 | 16,9% | 3,5% | 0,7% | 0,6% |
| 37 | 29 | Toyota Sienna | 1.141 | 3.251 | 3,8% | 11,7% | 0,7% | 0,8% |
| 38 | 39 | Ford Explorer | 1.121 | 2.541 | 15,6% | 25,1% | 0,6% | 0,6% |
| 39 | 34 | Toyota Tacoma | 1.093 | 2.902 | 22,3% | 49,0% | 0,6% | 0,7% |
| 40 | 64 | Dodge Durango | 1.084 | 1.653 | 270,0% | 177,3% | 0,6% | 0,4% |
(259)