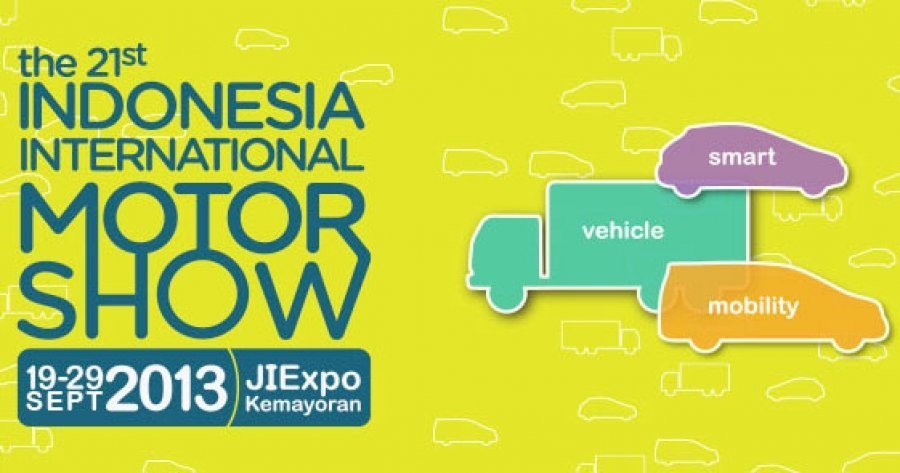 The 21st Indonesia International Motor Show (IIMS) was officially opened by Vice President of Republic of Indonesia, Boediono, on September 19 and it will last until September 29. IIMS 2013 is bigger than any other automotive exhibition in Asia Pacific, animated by 36 carmakers (27 passenger car brands and 9 commercial vehicles) plus 276 service and supplier firms.
This year theme is "Smart Vehicle Mobility" that emphasizes the importance of fuel efficiency and suggests the introduction of advanced transportation systems with new efficiency standard to reduce fuel consumption and CO2 emissions.
The Motor show is guiding consumers in a visit focused on choosing vehicles with technology enabling fuel efficiency while ensuring top safety and comfort. To pursue this direction Carmakers are addressing Indonesian government to eliminate the luxury tax on certain fuel-efficient vehicles with the new low-cost green car program that already counted two models qualified from Toyota.
IIMS is not only an automotive exhibition as it also acts as a promotional tool to further introduce and demonstrate at a global audience the huge potential of the Indonesian Automotive Industry in order to realize its target to become the biggest automotive market in South East Asia.
In fact an expanding middle class and a broadening economic base have been cited as two of the driving forces behind the forecast for rapid expansion of the Indonesian automotive industry, with predictions that domestic and regional demand will combine to boost growth over the next few years.
Automotive ownership in Indonesia is low in comparison to some of its neighbors, with penetration rates of around 80 vehicles per 1000 people, as against 330 per 1000 in Malaysia. The potential market for automotive producers and importers is set to expand, with a population of 240 million and per capita income on the rise.
In early September, UK-based Ricardo Strategic identified Indonesia as one of the stars for vehicle sales from 2020 onwards, and a Frost & Sullivan market research forecasted a strong growth across the ASEAN automotive sector.
"Indonesia is expected to emerge as the largest automotive market in ASEAN by 2019, accounting for 2.3 million vehicles, driven by sustained economic growth in the country, growing middle classes with larger disposable incomes, increased investments in the automotive sector and introduction of automotive regulations supporting market growth," Frost & Sullivan's regional research director for the Asia-Pacific said on August 15.
US General Motor (GM) is investing $150m to reopen a previously closed plant in Bekasi, investing in a revamp to produce for the local market, because they think that: "Indonesia is a dynamic country and offers great potentials for car producers". Their move was part of a concerted effort to deepen the corporation's penetration in the market.
Also Germany's Volkswagen will formally announce plans for a $266m manufacturing facility in West Java with local firm Indomobil Sukses Makmur that could start in 2017.
A third carmaker that is looking to break into the Indonesian market is India's Tata, with a sports utility, a multi-purpose vehicle and a hatchback, followed by its heavy vehicles range and mass people movers.
As reported by focus2move, the Indonesian domestic market in the last three years had always hit the all-time sales record and 2013 is running toward a new record. In the 2012, the market exceeded the one million annual units, first time ever.
August was the first month with a negative year-on-year performance, as the 68.701 sales were down 6.8%. However, full year 2013 is projected above 1.15 million, the World's 14th light vehicles market, and 150.000 below Thailand, soared last year on top of ASEAN country list.
In the next months, sales could slow because different factors.
The key lending rate was raised by Bank Indonesia from the record low of 5.75% as of June to 7% in August, a move aimed at propping up the local currency and stemming the inflation rise. The rate increase could become a significant factor, since the 70% of all vehicles purchases are made through loans.
In addition, the rupiah is falling down around 10% against US dollar this year, moving up cost of imported vehicles with price to final customers expected to rise.
To be updated over this and other global countries, please subscribe to our free newsletter. Just click here.
Would you need our help, data or consulting over this country or subject, please mail at info@focus2move.com.
Copyright 2013. All rights reserved. This material may not be published, broadcast, rewritten or redistributed, without written authorization.
(126)