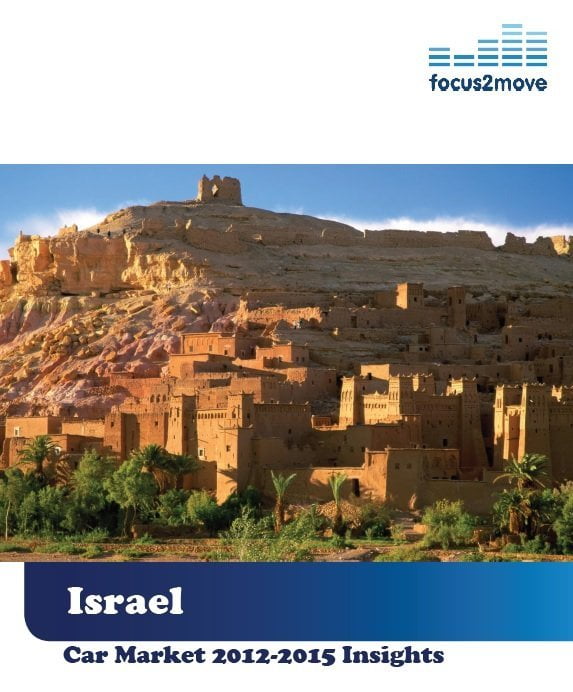 Israel Vehicle Market 2012-2015 Insights provides facts, data and forecast on this market with all data by OEM, Brand, Model and segment. From the 2004 up to the 2015 All About within 80 pages and 120 charts.
Historical Market data are reported since 2004 with detail by segments, groups, brands and models from 2012 to full year 2015. The market is segmented for cars and LCVs. with a dedicated section to the premium brands segment.
Israel has a technologically advanced market economy. Cut diamonds, high-technology equipment, and pharmaceuticals are among the leading exports. Its major imports include crude oil, grains, raw materials, and military equipment. Israel usually posts sizable trade deficits, which are covered by tourism and other service exports, as well as significant foreign investment inflows.
Slowing demand domestically and internationally and reduced investment due to uncertainties caused by the Gaza conflict in summer 2014 have reduced GDP growth to about 2% during 2014. Natural gas fields discovered off Israel's coast since 2009 have brightened Israel's energy security outlook.
Following a significant acceleration in the final quarter of last year, Israel's economy lost ground in the first quarter of 2016 and GDP grew a meager 0.8% over the previous quarter in seasonally adjusted annualized terms (SAAR).
The economy is expected to accelerate this year. However, external risks from geopolitical factors and a slow recovery in global demand are weighing on the country's economic outlook.
Israel Vehicle Market 2012-2015 Insights  research starts from the review of the last ten years heritage in which section we have checked the rule of the automotive industry in the country reporting data on segments, brands and models.
Recent sales data had been reviewed starting from 2004 with a focused analysis on the 2012-2015 data, reported for cars and LCVs.
All data are presented in charts and table with an immediate and easy-to-read style that allow you to catch the essential about this market.
To know more on the product and to see the Table of Contents, please click on the picture.
(119)