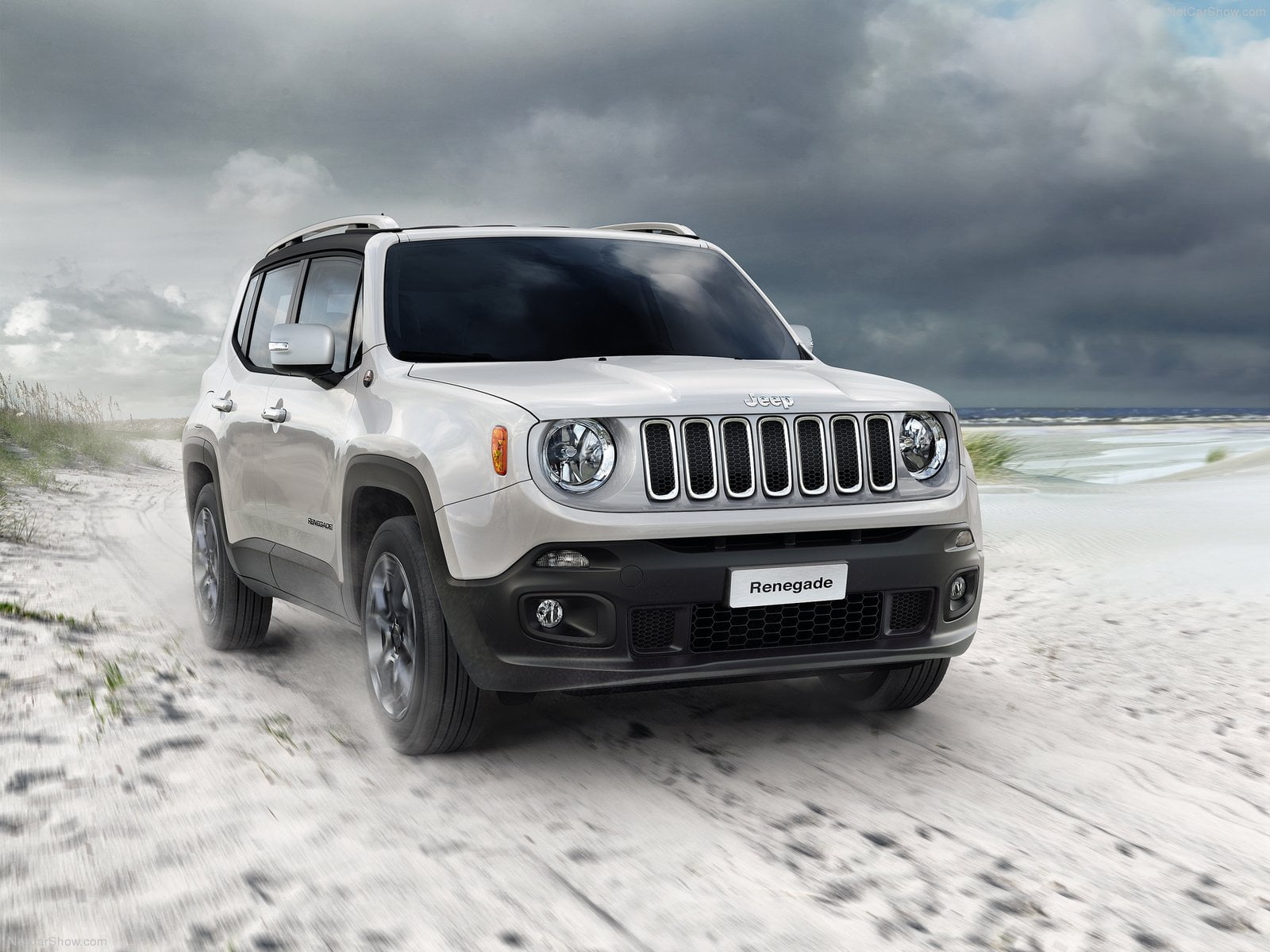 Jeep a rising star in Italian vehicle market while Alfa Romeo is asphyxiated and December 2014 confirmed the trend with Jeep jumped in 15th place, +400% launching the new Renegade and Alfa Romeo collapsing in 19th place.
In December 2014 according to data released by UNRAE, the Italian Association of Cars Importers, total new Car Passengers sold in Italy have been 92.974, up 2.9% compared with the correspondent month last year.
Full Year 2014 sales in Italy have been 1.357.061, up 4.5% from the correspondent period last year.
Following seven year of consecutive decline, finally the market was up, fueled for demand on leasing and fleet market, while private consumer demand was negative again.
Despite the launch of new 500X, Fiat ended the year with an awful share of 18.5% with 17.231 retails, -3.7% from the correspondent month last year.
Behind, Volkswagen sold 7.261 units (-5.2%) while Renault roared with a +30.0% of sales at 6.155, outpacing Ford (just for this month).
Thanks to the Renegade launch Jeep jumped in 15th place improving 406.1% (from a really low base) at 2.308 sales while Alfa Romeo is giving away and in December ranked only 19th with 1.802.
Looking at the report on Car Groups, the December leader was FCA with 25.128 registrations and 27.0% market share, ahead of Renault-Nissan with 13.2% and Volkswagen Group with 12.3%.
As far as model ranking report, the Fiat Panda was the leader with 7.315 sales (+7.8%) followed by Fiat Punto with 4.421 (+14.7%) and Lancia Ypsilon with 3.388 (-7.0%).
Below, you can sort our interactive tables to see data regarding Brands, Groups and Models. Please bear in mind that sales data are subject to adjustments as sources will update their information. This report is updated at the publishing date and will not be modified while the next on this subject will always have the year to date data updated.
| Rank Dec | Rank 2014 | Brand | Sales Dec | Sales F.Y. 2014 | Dec Y.o.Y Var. | F.Y. 2014 Y.o.Y. Var. | Share 2013 | Share Dec | Share 2014 |
| --- | --- | --- | --- | --- | --- | --- | --- | --- | --- |
| 1 | 1 | Fiat | 17.231 | 277.955 | -3,7% | 0,4% | 21,1% | 18,5% | 20,3% |
| 2 | 2 | Volkswagen | 7.261 | 110.410 | -5,2% | 4,3% | 8,1% | 7,8% | 8,1% |
| 3 | 4 | Renault | 6.155 | 82.647 | 30,0% | 25,0% | 5,0% | 6,6% | 6,0% |
| 4 | 3 | Ford | 5.519 | 93.055 | -11,9% | 4,9% | 6,8% | 5,9% | 6,8% |
| 5 | 5 | Opel | 5.250 | 75.911 | -1,7% | 7,4% | 5,4% | 5,6% | 5,5% |
| 6 | 6 | Peugeot | 4.978 | 74.067 | 10,2% | 16,1% | 4,9% | 5,4% | 5,4% |
| 7 | 7 | Toyota | 4.658 | 61.343 | 9,3% | 11,3% | 4,2% | 5,0% | 4,5% |
| 8 | 8 | Lancia | 3.585 | 55.478 | -15,1% | -2,7% | 4,3% | 3,9% | 4,0% |
| 9 | 13 | BMW | 3.487 | 43.583 | 4,3% | 2,4% | 3,2% | 3,8% | 3,2% |
| 10 | 11 | Nissan | 3.341 | 49.774 | 18,9% | 4,4% | 3,6% | 3,6% | 3,6% |
| 11 | 14 | Hyundai | 3.190 | 41.805 | 13,0% | 8,9% | 2,9% | 3,4% | 3,0% |
| 12 | 12 | Mercedes | 3.012 | 45.550 | -8,6% | 1,2% | 3,4% | 3,2% | 3,3% |
| 13 | 9 | Citroen | 2.853 | 53.286 | -12,0% | -7,8% | 4,4% | 3,1% | 3,9% |
| 14 | 15 | Dacia | 2.801 | 38.821 | 34,1% | 41,0% | 2,1% | 3,0% | 2,8% |
| 15 | 25 | Jeep | 2.308 | 11.335 | 406,1% | 94,6% | 0,4% | 2,5% | 0,8% |
| 16 | 16 | Kia | 2.199 | 32.776 | 22,7% | 9,4% | 2,3% | 2,4% | 2,4% |
| 17 | 10 | Audi | 2.098 | 49.955 | -26,6% | 4,6% | 3,6% | 2,3% | 3,6% |
| 18 | 20 | Smart | 1.883 | 15.868 | 81,6% | -22,4% | 1,6% | 2,0% | 1,2% |
| 19 | 17 | Alfa Romeo | 1.802 | 28.320 | -15,7% | -10,5% | 2,4% | 1,9% | 2,1% |
| 20 | 18 | Mini | 1.561 | 19.149 | 17,5% | 10,5% | 1,3% | 1,7% | 1,4% |
| 21 | 22 | Volvo | 1.290 | 14.465 | 0,9% | 6,0% | 1,0% | 1,4% | 1,1% |
| 22 | 19 | Suzuki | 1.103 | 15.928 | -12,0% | 14,2% | 1,1% | 1,2% | 1,2% |
| 23 | 23 | Skoda | 944 | 13.910 | 41,1% | 27,9% | 0,8% | 1,0% | 1,0% |
| 24 | 21 | Land Rover | 942 | 14.936 | 7,4% | 8,3% | 1,1% | 1,0% | 1,1% |
| 25 | 24 | Seat | 860 | 12.676 | 40,8% | 26,9% | 0,8% | 0,9% | 0,9% |
| 26 | 33 | Lexus | 389 | 2.000 | 151,0% | 81,5% | 0,1% | 0,4% | 0,1% |
| 27 | 27 | Mazda | 355 | 5.461 | 10,2% | 15,4% | 0,4% | 0,4% | 0,4% |
| 28 | 28 | Honda | 334 | 4.390 | -7,7% | 0,3% | 0,3% | 0,4% | 0,3% |
| 29 | 29 | Mitsubishi | 327 | 4.264 | 21,1% | 31,2% | 0,2% | 0,4% | 0,3% |
| 30 | 30 | Porsche | 272 | 4.109 | 55,4% | 51,1% | 0,2% | 0,3% | 0,3% |
| 31 | 31 | Subaru | 243 | 2.656 | -8,0% | -18,5% | 0,2% | 0,3% | 0,2% |
| 32 | 32 | Abarth | 153 | 2.094 | -25,4% | 5,2% | 0,2% | 0,2% | 0,2% |
| 33 | 36 | Jaguar | 100 | 1.037 | 88,7% | -0,1% | 0,1% | 0,1% | 0,1% |
| 34 | 38 | Great Wall | 94 | 506 | 224,1% | 78,8% | 0,0% | 0,1% | 0,0% |
| 35 | 26 | Chevrolet | 74 | 7.115 | -94,8% | -73,1% | 2,0% | 0,1% | 0,5% |
| 35 | 35 | SsangYong | 74 | 1.123 | -11,9% | -7,5% | 0,1% | 0,1% | 0,1% |
| 36 | 37 | Isuzu | 63 | 542 | 85,3% | 14,8% | 0,0% | 0,1% | 0,0% |
| 37 | 34 | Maserati | 46 | 1.235 | 0,0% | 378,7% | 0,0% | 0,0% | 0,1% |
| 38 | 39 | DR Motor | 41 | 354 | 127,8% | -24,5% | 0,0% | 0,0% | 0,0% |
| 39 | 40 | Mahindra | 23 | 318 | -58,2% | -3,0% | 0,0% | 0,0% | 0,0% |
| 40 | 43 | Tata | 19 | 148 | -17,4% | -69,1% | 0,0% | 0,0% | 0,0% |
| 41 | 42 | Infiniti | 15 | 156 | -16,7% | 44,4% | 0,0% | 0,0% | 0,0% |
| 42 | 44 | Tesla | 12 | 53 | 50,0% | 152,4% | 0,0% | 0,0% | 0,0% |
| 43 | 48 | Lada | 7 | 24 | 250,0% | -27,3% | 0,0% | 0,0% | 0,0% |
| 44 | 53 | McLaren | 3 | 6 | | 100,0% | 0,0% | 0,0% | 0,0% |
| 44 | 41 | Ferrari | 3 | 227 | -66,7% | 20,1% | 0,0% | 0,0% | 0,0% |
| 44 | 46 | Lotus | 3 | 39 | 200,0% | 2,6% | 0,0% | 0,0% | 0,0% |
| 44 | 51 | Rolls Royce | 3 | 14 | | 75,0% | 0,0% | 0,0% | 0,0% |
| 45 | 55 | Daihatsu | 1 | 3 | -75,0% | -99,1% | 0,0% | 0,0% | 0,0% |
| 45 | 47 | Aston Martin | 1 | 26 | -66,7% | -54,4% | 0,0% | 0,0% | 0,0% |
| 45 | 50 | Morgan | 1 | 15 | -66,7% | -34,8% | 0,0% | 0,0% | 0,0% |
| 45 | 45 | Lamborghini | 1 | 47 | 0,0% | -9,6% | 0,0% | 0,0% | 0,0% |
| 45 | 53 | Cadillac | 1 | 6 | -85,7% | -50,0% | 0,0% | 0,0% | 0,0% |
| Rank Dec | Rank 2014 | Group | Sales Dec | Sales F.Y. 2014 | Dec Y.o.Y Var. | F.Y. 2014 Y.o.Y. Var. | Share 2013 | Share Dec | Share 2014 |
| --- | --- | --- | --- | --- | --- | --- | --- | --- | --- |
| 1 | 1 | FCA | 25.128 | 376.650 | 0,6% | 0,8% | 28,5% | 27,0% | 27,5% |
| 2 | 3 | Renault-Nissan | 12.319 | 171.422 | 27,6% | 21,1% | 10,8% | 13,2% | 12,5% |
| 3 | 2 | Volkswagen | 11.436 | 191.123 | -4,5% | 7,8% | 13,5% | 12,3% | 13,9% |
| 4 | 4 | PSA | 7.831 | 127.353 | 0,9% | 4,7% | 9,3% | 8,4% | 9,3% |
| 5 | 5 | Ford | 5.519 | 93.055 | -11,9% | 4,9% | 6,8% | 5,9% | 6,8% |
| 6 | 7 | Hyundai-Kia | 5.389 | 74.581 | 16,8% | 9,1% | 5,2% | 5,8% | 5,4% |
| 7 | 6 | GM | 5.325 | 83.033 | -21,3% | -14,5% | 7,4% | 5,7% | 6,1% |
| 8 | 9 | BMW | 5.051 | 62.747 | 8,1% | 4,8% | 4,6% | 5,4% | 4,6% |
| 9 | 8 | Toyota | 5.048 | 63.346 | 14,2% | 12,0% | 4,3% | 5,4% | 4,6% |
| 10 | 10 | Mercedes Daimler | 4.895 | 61.418 | 13,0% | -6,2% | 5,0% | 5,3% | 4,5% |
| Rank Dec | Rank 2014 | Model | Sales Dec | Sales 2014 | Dec Y.o.Y. Var. | 2014 Y.o.Y. Var. | Share 2013 | Share Dec | Share 2014 |
| --- | --- | --- | --- | --- | --- | --- | --- | --- | --- |
| 1 | 1 | Fiat Panda | 7.315 | 104.351 | 7,8% | 2,6% | 7,8% | 0,2% | 7,6% |
| 2 | 2 | Fiat Punto | 4.421 | 57.142 | 14,7% | -10,7% | 4,9% | 0,2% | 4,2% |
| 3 | 4 | Lancia Ypsilon | 3.388 | 51.144 | -7,0% | 9,9% | 3,6% | 0,2% | 3,7% |
| 4 | 5 | Renault Clio | 3.222 | 40.866 | 45,1% | 22,7% | 2,5% | 0,2% | 3,0% |
| 5 | 6 | Volkswagen Golf | 2.705 | 39.225 | 1,9% | 16,3% | 2,6% | 0,2% | 2,9% |
| 6 | 3 | Fiat 500L | 2.593 | 51.260 | -6,1% | 34,1% | 2,9% | 0,2% | 3,8% |
| 7 | 8 | Ford Fiesta | 2.259 | 36.859 | -20,6% | 11,1% | 2,5% | 0,2% | 2,7% |
| 8 | 11 | Toyota Yaris | 2.135 | 28.669 | 15,2% | 14,1% | 1,9% | 0,2% | 2,1% |
| 9 | 9 | Volkswagen Polo | 2.091 | 31.129 | 8,5% | -0,7% | 2,4% | 0,2% | 2,3% |
| 10 | 80 | Jeep Renegade | 1.806 | 3.733 | | | 0,0% | 0,2% | 0,3% |
| 11 | 7 | Fiat 500 | 1.777 | 38.465 | -30,0% | -5,2% | 3,1% | 0,2% | 2,8% |
| 12 | 13 | Peugeot 208 | 1.697 | 25.172 | 14,6% | -3,3% | 2,0% | 0,2% | 1,8% |
| 13 | 14 | Opel Corsa | 1.606 | 21.965 | -14,0% | 0,7% | 1,7% | 0,2% | 1,6% |
| 14 | 12 | Nissan Qashqai | 1.543 | 25.544 | 32,4% | 1,9% | 1,9% | 0,2% | 1,9% |
| 15 | 19 | Opel Mokka | 1.514 | 18.115 | 180,4% | 112,5% | 0,7% | 0,2% | 1,3% |
| 16 | 17 | Renault Captur | 1.502 | 18.503 | 13,5% | 78,8% | 0,8% | 0,2% | 1,4% |
| 17 | 18 | Dacia Duster | 1.395 | 18.378 | 107,3% | 93,3% | 0,7% | 0,2% | 1,3% |
| 18 | 10 | Citroen C3 | 1.340 | 29.316 | -35,5% | -9,6% | 2,5% | 0,2% | 2,1% |
| 19 | 16 | Peugeot 2008 | 1.214 | 18.787 | -6,8% | 177,5% | 0,5% | 0,2% | 1,4% |
| 20 | 15 | Alfa Romeo Giulietta | 1.188 | 19.602 | -11,6% | -14,9% | 1,8% | 0,2% | 1,4% |
| 21 | 29 | Mini Countryman | 1.101 | 12.681 | 10,5% | -2,4% | 1,0% | 0,2% | 0,9% |
| 22 | 20 | Dacia Sandero | 1.073 | 15.700 | -2,1% | 10,2% | 1,1% | 0,2% | 1,1% |
| 23 | 25 | Hyundai i10 | 1.069 | 13.930 | 40,3% | 63,9% | 0,6% | 0,2% | 1,0% |
| 24 | 23 | Smart Fortwo | 1.035 | 14.728 | -0,2% | -28,0% | 1,6% | 0,2% | 1,1% |
| 25 | 27 | Kia Sportage | 927 | 13.116 | 18,7% | 17,0% | 0,9% | 0,2% | 1,0% |
| 26 | 34 | Toyota Aygo | 921 | 10.114 | 41,3% | 11,4% | 0,7% | 0,2% | 0,7% |
| 27 | 28 | Hyundai ix35 | 866 | 12.783 | -6,7% | 17,0% | 0,8% | 0,2% | 0,9% |
| 28 | 143 | Smart Forfour | 848 | 1.140 | | | 0,0% | 0,2% | 0,1% |
| 29 | 22 | Volkswagen Up! | 842 | 15.430 | -27,2% | 16,2% | 1,0% | 0,2% | 1,1% |
| 30 | 31 | BMW 3 Series | 809 | 10.854 | -16,4% | -16,4% | 1,0% | 0,2% | 0,8% |
| 31 | 35 | Nissan Micra | 785 | 9.813 | 34,9% | 21,7% | 0,6% | 0,2% | 0,7% |
| 32 | 24 | Mercedes A Class | 769 | 14.319 | -20,4% | -7,9% | 1,2% | 0,2% | 1,0% |
| 33 | 39 | Peugeot 308 | 649 | 9.298 | 81,3% | 103,0% | 0,3% | 0,2% | 0,7% |
| 34 | 26 | Ford C-max | 646 | 13.368 | -30,5% | -10,1% | 1,1% | 0,2% | 1,0% |
| 35 | 36 | Volkswagen Tiguan | 613 | 9.705 | -27,0% | -5,5% | 0,8% | 0,2% | 0,7% |
| 35 | 21 | Audi A3 | 613 | 15.519 | -17,7% | 28,2% | 0,9% | 0,2% | 1,1% |
| 36 | 41 | Alfa Romeo Mi.To | 603 | 8.527 | -20,7% | 1,7% | 0,6% | 0,2% | 0,6% |
| 37 | 50 | Toyota RAV4 | 591 | 7.404 | 10,1% | 8,8% | 0,5% | 0,2% | 0,5% |
| 38 | 30 | Ford Focus | 576 | 11.281 | -10,7% | -9,4% | 1,0% | 0,2% | 0,8% |
| 39 | 44 | Opel Meriva | 572 | 8.170 | -20,4% | -10,3% | 0,7% | 0,2% | 0,6% |
| 39 | 47 | Land Rover Range Rover Evoque | 572 | 7.843 | 40,2% | -1,5% | 0,6% | 0,2% | 0,6% |
| 40 | 69 | Mercedes GLA Class | 542 | 4.799 | | | 0,0% | 0,2% | 0,4% |
(180)