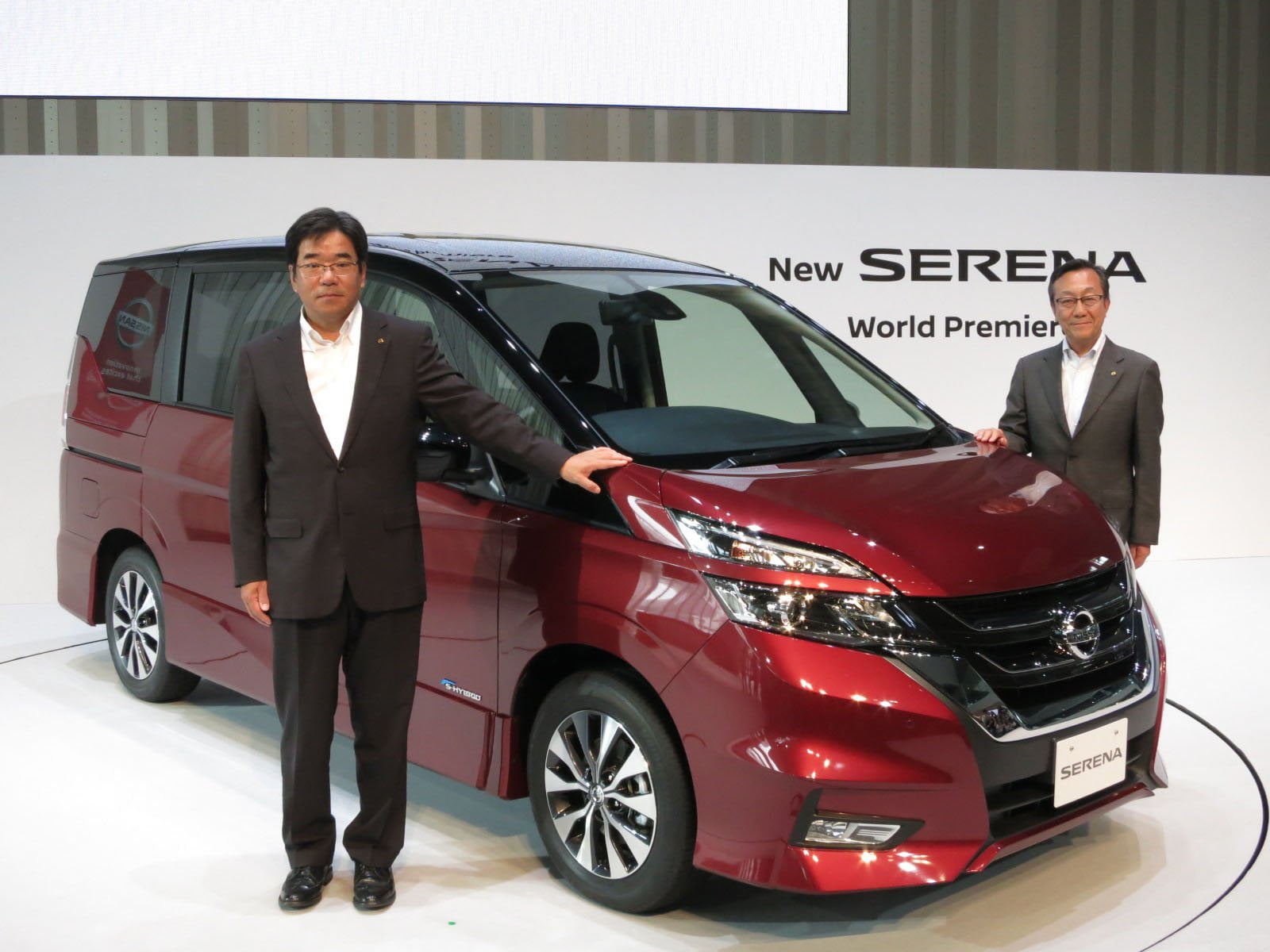 Japanese Cars Market in October was flat. The fifth generation of Nissan Serena launched in August is obtaining a phenomenal success reaching the third step of the podium.
Market Outlook
Industrial activities gained steam in recent months, with the manufacturing PMI jumping to a nine-month high in October. Rumors are mounting that the prime minister could call a snap general election in January as he is seeking to expand his party leadership, which ends in 2018, in order to continue implementing his Abenomics policies.
As regard the cars market, in October the sales contracted for the 8th month year to date but in a very thin way.
According to the data released by the JADA, JAMA and JAIA, (the Japanese Associations of car manufacturers, importers and dealers), in October total new vehicles sales declined moderately  by 0.1% with 378.693 units.
Year to date October sales had been 4.144.643, down 3.1%.
In August the fifth-generation Nissan Serena has officially gone on sale in Japan. Nissan's popular seven-seater MPV is now claimed to boast a best-in-class interior, enhanced practicality features and Nissan's 'ProPilot' Autonomous Drive Technology.
The Japanese market introduction now confirms the S-Hybrid direct-injected MR20DD inline-four will continue as the power plant of choice, albeit with some tweaking for better fuel consumption. The engine is mated to Nissan's X-Tronic continuously variable transmission. For the Japanese market, the Nissan Serena is available in eight two-wheel drive and four all-wheel drive variants starting from JPY2,316,600. In October Serena jumped in the third step of the podium.
Competitive Arena
In October, Toyota led the ranking with 119.115 sales (-1.7%) and with 31.5% of market share. Honda was second with 57.139 (+3.3%) followed by Suzuki with 48.257 sales (-5.2%).
Behind was Daihatsu with 47.303 (+1.3%) ahead of Nissan with 38.711 (-0.3%), Mazda with 13.058 (-14.3%) and Subaru with 11.505 (+15.4%). Mitsubishi reached the 9th place, down 1.8% with 6.703 sales.
The performance by group was dominated by Toyota with market share at 46.1%, followed by Honda with 15.1%, Suzuki with 12.7%, Renault-Nissan with 10.4% and Mazda with 3.4%.
The Toyota Prius confirmed the leadership of the best-selling model ranking with 14.053 sales (+74.1%).
In second place the Toyota Aqua with 12.480 (-19.7%) and in third the Nissan Serena with 12.408 (+231.5%). The Toyota Sienta declined in 5th place with 10.778 sales (-0.7%).
Below, you can sort our interactive tables to see data regarding Brands, Groups and Models. Please bear in mind that sales data are subject to adjustments as sources will update their information. This report is updated at the publishing date and will not be modified while the next on this subject will report year to date data updated.
| Rank Oct | Rank 2016 | Brand | Sales Oct | Sales 2016 | Var Oct | Var 2016 | Share Oct | Share 2016 |
| --- | --- | --- | --- | --- | --- | --- | --- | --- |
| 1 | 1 | Toyota | 119.115 | 1.277.029 | -1,7% | 4,7% | 31,5% | 30,8% |
| 2 | 2 | Honda | 57.139 | 594.134 | 3,3% | -4,9% | 15,1% | 14,3% |
| 3 | 3 | Suzuki | 48.257 | 529.162 | -5,2% | -2,7% | 12,7% | 12,8% |
| 4 | 4 | Daihatsu | 47.303 | 490.606 | 1,3% | -4,4% | 12,5% | 11,8% |
| 5 | 5 | Nissan | 38.711 | 439.868 | -0,3% | -13,8% | 10,2% | 10,6% |
| 6 | 6 | Mazda | 13.058 | 174.466 | -14,3% | -19,8% | 3,4% | 4,2% |
| 7 | 7 | Subaru | 11.505 | 128.635 | 15,4% | -6,3% | 3,0% | 3,1% |
| 8 | 9 | Mitsubishi | 6.703 | 66.014 | -1,8% | -25,3% | 1,8% | 1,6% |
| 9 | 8 | Isuzu | 5.382 | 66.695 | 12,9% | 5,8% | 1,4% | 1,6% |
| 10 | 10 | Mercedes | 4.543 | 54.945 | 10,6% | 2,2% | 1,2% | 1,3% |
| 11 | 11 | Hino | 4.527 | 52.122 | -2,2% | 3,4% | 1,2% | 1,3% |
| 12 | 12 | Lexus | 3.816 | 44.283 | -7,2% | 12,7% | 1,0% | 1,1% |
| 13 | 13 | BMW | 3.361 | 40.994 | 5,4% | 10,1% | 0,9% | 1,0% |
| 14 | 14 | Volkswagen | 2.999 | 39.759 | 24,8% | -14,7% | 0,8% | 1,0% |
| 15 | 15 | Mitsubishi Fuso | 2.913 | 37.159 | -10,4% | 1,4% | 0,8% | 0,9% |
| 16 | 16 | Audi | 1.921 | 23.450 | 36,9% | -6,3% | 0,5% | 0,6% |
| 17 | 17 | Mini | 1.673 | 19.463 | 13,4% | 17,3% | 0,4% | 0,5% |
| 18 | 18 | Volvo | 845 | 11.670 | -15,3% | 7,0% | 0,2% | 0,3% |
| 19 | 19 | UD Trucks | 791 | 8.567 | | | 0,2% | 0,2% |
| 20 | 20 | Jeep | 681 | 7.779 | 23,6% | 28,3% | 0,2% | 0,2% |
| 21 | 24 | Renault | 563 | 4.358 | 62,2% | 1,0% | 0,1% | 0,1% |
| 22 | 21 | Peugeot | 546 | 6.174 | 48,0% | 30,0% | 0,1% | 0,1% |
| 23 | 22 | Porsche | 475 | 5.720 | 7,0% | 7,4% | 0,1% | 0,1% |
| 24 | 23 | Fiat | 362 | 5.586 | -28,3% | 16,6% | 0,1% | 0,1% |
| 25 | 25 | Smart | 218 | 3.545 | | | 0,1% | 0,1% |
| 26 | 29 | Abarth | 188 | 1.710 | 224,1% | 46,0% | 0,0% | 0,0% |
| 27 | 27 | Jaguar | 149 | 2.224 | 10,4% | 111,4% | 0,0% | 0,1% |
| 28 | 30 | Citroen | 146 | 1.486 | 5,0% | -10,5% | 0,0% | 0,0% |
| 29 | 26 | Land Rover | 137 | 2.658 | -48,1% | 3,1% | 0,0% | 0,1% |
| 30 | 32 | Maserati | 104 | 958 | -3,7% | -13,5% | 0,0% | 0,0% |
| 31 | 31 | Alfa Romeo | 92 | 1.473 | -7,1% | -27,8% | 0,0% | 0,0% |
| 32 | 33 | DS | 76 | 924 | -1,3% | 20,0% | 0,0% | 0,0% |
| 33 | 36 | Chevrolet | 56 | 478 | 33,3% | -28,2% | 0,0% | 0,0% |
| 34 | 38 | Bentley | 43 | 302 | 19,4% | 1,7% | 0,0% | 0,0% |
| 35 | 35 | Cadillac | 40 | 516 | -11,1% | -29,1% | 0,0% | 0,0% |
| 36 | 34 | Ferrari | 36 | 565 | 0,0% | -12,5% | 0,0% | 0,0% |
| 37 | 28 | Ford | 35 | 2.145 | -91,4% | -47,8% | 0,0% | 0,1% |
| 38 | 40 | Dodge | 32 | 277 | -3,0% | 9,5% | 0,0% | 0,0% |
| 39 | 39 | Alpina | 24 | 288 | -27,3% | 20,0% | 0,0% | 0,0% |
| 40 | 37 | Lamborghini | 23 | 328 | -17,9% | 4,8% | 0,0% | 0,0% |
| 41 | 45 | Hyundai | 22 | 144 | 144,4% | 157,1% | 0,0% | 0,0% |
| 42 | 42 | Rolls-Royce | 17 | 178 | 54,5% | 31,9% | 0,0% | 0,0% |
| 43 | 41 | Chrysler | 15 | 245 | -42,3% | -38,3% | 0,0% | 0,0% |
| 43 | 46 | McLaren | 15 | 134 | 114,3% | 103,0% | 0,0% | 0,0% |
| 44 | 43 | Lotus | 10 | 170 | -41,2% | -30,0% | 0,0% | 0,0% |
| 45 | 49 | GMC | 8 | 38 | 60,0% | -19,1% | 0,0% | 0,0% |
| 46 | 44 | Aston Martin | 7 | 153 | -22,2% | 11,7% | 0,0% | 0,0% |
| 47 | 47 | Scania | 6 | 87 | | | 0,0% | 0,0% |
| 48 | 50 | Lancia | 3 | 14 | | -22,2% | 0,0% | 0,0% |
| 49 | 51 | Hummer | 2 | 11 | 0,0% | -35,3% | 0,0% | 0,0% |
| Rank Oct | Rank 2016 | Group | Sales Oct | Sales 2016 | Var Oct | Var 2016 | Share Oct | Share 2016 |
| --- | --- | --- | --- | --- | --- | --- | --- | --- |
| 1 | 1 | Toyota | 174.761 | 1.864.040 | -1,1% | 2,3% | 46,1% | 44,9% |
| 2 | 2 | Honda | 57.139 | 594.134 | 3,3% | -4,9% | 15,1% | 14,3% |
| 3 | 3 | Suzuki | 48.257 | 529.162 | -5,2% | -2,7% | 12,7% | 12,8% |
| 4 | 4 | Renault-Nissan | 39.274 | 444.226 | 0,2% | -13,6% | 10,4% | 10,7% |
| 5 | 5 | Mazda | 13.058 | 174.466 | -14,3% | -19,8% | 3,4% | 4,2% |
| 6 | 6 | Fuji Heavy Industries | 11.505 | 128.635 | 15,4% | -6,3% | 3,0% | 3,1% |
| 7 | 7 | Mitsubishi | 9.616 | 103.173 | -4,6% | -17,5% | 2,5% | 2,5% |
| 8 | 8 | Volkswagen | 5.467 | 69.649 | 26,6% | -10,2% | 1,4% | 1,7% |
| 9 | 9 | Isuzu Motors | 5.382 | 66.695 | 12,9% | 5,8% | 1,4% | 1,6% |
| 10 | 10 | BMW | 5.075 | 60.923 | 7,8% | 12,4% | 1,3% | 1,5% |
| Rank Oct | Rank 2016 | Model | Sales October | Sales YTD 2016 | Var Oct | Var 2016 |
| --- | --- | --- | --- | --- | --- | --- |
| 1 | 1 | Toyota Prius | 14.053 | 222.149 | 74,1% | 98,8% |
| 2 | 2 | Toyota Aqua | 12.480 | 144.350 | -19,7% | -22,1% |
| 3 | 21 | Nissan Serena | 12.408 | 60.004 | 231,5% | 10,7% |
| 4 | 5 | Toyota Sienta | 10.778 | 104.584 | -0,7% | 133,1% |
| 5 | 33 | Honda Freed | 9.153 | 32.887 | 215,6% | -7,1% |
| 6 | 9 | Toyota Voxy | 7.936 | 75.894 | -5,6% | -1,5% |
| 7 | 6 | Honda Fit | 7.585 | 93.109 | -22,5% | -10,9% |
| 8 | 11 | Toyota Corolla | 6.663 | 72.677 | -24,9% | -21,8% |
| 9 | 7 | Suzuki Solio | 6.522 | 81.368 | 66,3% | 167,4% |
| 10 | 22 | Toyota Passo | 5.868 | 59.948 | 67,7% | 54,2% |
| 11 | 27 | Toyota Noah | 5.769 | 44.742 | 12,6% | -2,5% |
| 12 | 17 | Honda Vezel | 5.551 | 64.411 | 2,6% | 5,9% |
| 13 | 18 | Toyota Vitz | 5.126 | 61.608 | -16,7% | -6,0% |
| 14 | 28 | Toyota Vellfire | 5.100 | 38.725 | 33,3% | -18,9% |
| 15 | 26 | Honda StepWGN | 4.113 | 46.355 | -18,5% | 1,3% |
| 16 | 32 | Toyota Crown | 3.565 | 33.650 | -29,2% | -5,5% |
| 17 | 29 | Toyota Esquire | 3.457 | 38.685 | 15,3% | -26,6% |
| 18 | 24 | Nissan X-Trail | 3.420 | 48.987 | -29,7% | -3,7% |
| 19 | 35 | Toyota Alphard | 3.142 | 30.329 | -15,4% | -21,1% |
| 20 | 34 | Toyota Harrier | 3.032 | 32.382 | -37,1% | -38,2% |
| 21 | 30 | Honda Shuttle | 2.636 | 37.341 | -37,4% | 33,5% |
| 22 | 31 | Subaru Impreza | 2.545 | 34.528 | -9,7% | -5,0% |
| 23 | 43 | Subaru Levorg | 2.350 | 20.192 | 56,7% | -24,0% |
| 24 | 146 | TOYOTA PREMIO | 2.007 | 2.007 | 80,3% | -82,0% |
| 25 | 38 | Subaru Forester | 1.962 | 23.561 | 96,2% | 51,3% |
| 26 | 48 | Toyota Estima | 1.914 | 16.935 | 33,6% | 18,2% |
| 27 | 44 | Toyota Land Cruiser | 1.895 | 20.101 | 574,4% | 619,9% |
| 28 | 10 | Nissan Note | 1.769 | 74.215 | -72,7% | -13,0% |
(491)