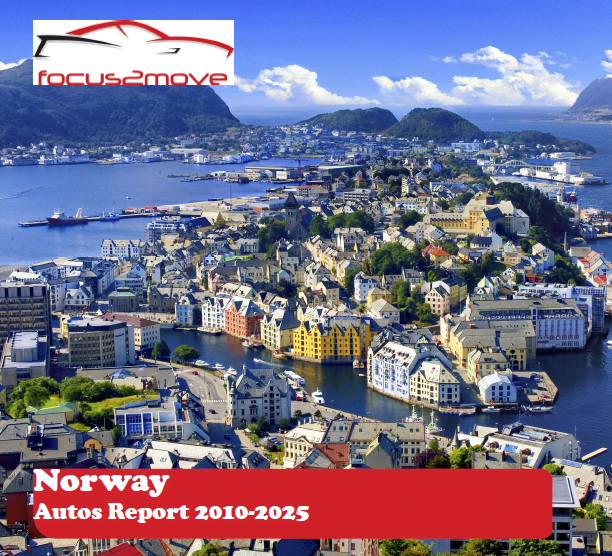 Norway Automotive Report 2010-2025 features historical data and insights plus professional forecast on new vehicles sales by type, manufacturer, brand and model providing an easy-to-use picture of current and future competitive landscape.
Market Trend
Norwegian vehicles market deeply changed in recent year by the decision to boost zero emission vehicles sales and the introduction of a medium terms incentive policy with EV fiscal cost at zero, including VAT and final price for consumers almost equivalent between a traditional combustion and AFVs. The result is the fast replacement of petrol based vehicles with the Hybrid or Electric cars, which have now achieved a monthly sales mix already over the 50%.
Pushed by the need to renovate the circulating park, the domestic market is growing without a break since 5 years and the 2017 just ended with a new all time record. Indeed according to data released by the Opplysningsrådet for Veitrafikken AS,  2017 figures report 158.670 car passengers and 35.838 light commercial vehicles, respectively up 2.6% and down 0.5% from the previous year.
In the 2018 the market confirms to have lost steams. Indeed, the car passenger's having ended the Q1 with 33.797 sales (-11.6%) and the Q2 with 42.943 (+8.1%), closed the Q3 with 34.754 units (-9.4%).
The deadline of September 1st for introduction of WLTP emission standard, moved up and down the registrations data in single Q3 months. In fact, sales were reported in July at 9.610 (-16.3%), in August at 14.524 (+8.3%) and finally September at 10.620 (-21.2%).
In October the market kept losing with 11.655 units (-6.6%) and with Year to Date figures at 123.154 (-4.4%) projecting the entire year score at 154.327 (-2.8%).
Research Contents
Focus2move Automotive Market Reports provide a comprehensive and extensive overview about this market including information on the cars and light commercial market size, market share and industry trends, with a deep segment analysis and full data for brands and models in the last two years, plus forecast by T.I.V:, segments and brand up to 2025.
We can help you gain further insight into the automotive market trends and gain valuable automotive consumer data.
Make sure you stay one step ahead of your competitors!
Focus2move's market analysis can help you make informed business decisions by providing up-to-the-minute automotive industry intelligence.
Contents are:
Historical Data 2010-2017
1 – Global Vehicles Market Data 2010-2018
2 – Introduction to the country
3 – Market vehicles industry data & trends 2010-2017
4 – Performance by brand 2016-2017
5 – Premium Brands performance 2010-2017
6 – Car Passenger's segmentation 2010-2017
7 – Car Passenger's sales & share by Model 2016-2017
8 – Light Commercial Vehicles segmentation 2010-2017
9 – LCVs sales & share by model 2016-2017
Future Outlook 2018-2025
10 – Global Automotive Mega Trends
11 – Global Vehicles Market Forecast 2018-2025
12 – Local Vehicles Market Mega Trends 2018-2025
13 – Local Vehicles Market Forecast 2018-2025
14 – Brand Performance Forecast 2018-2025
15 – Car Passenger's Segments Forecast 2018-2025
16 – LCVs segments Forecast 2018-2025
AX – Sources
AX – Methodology
(295)