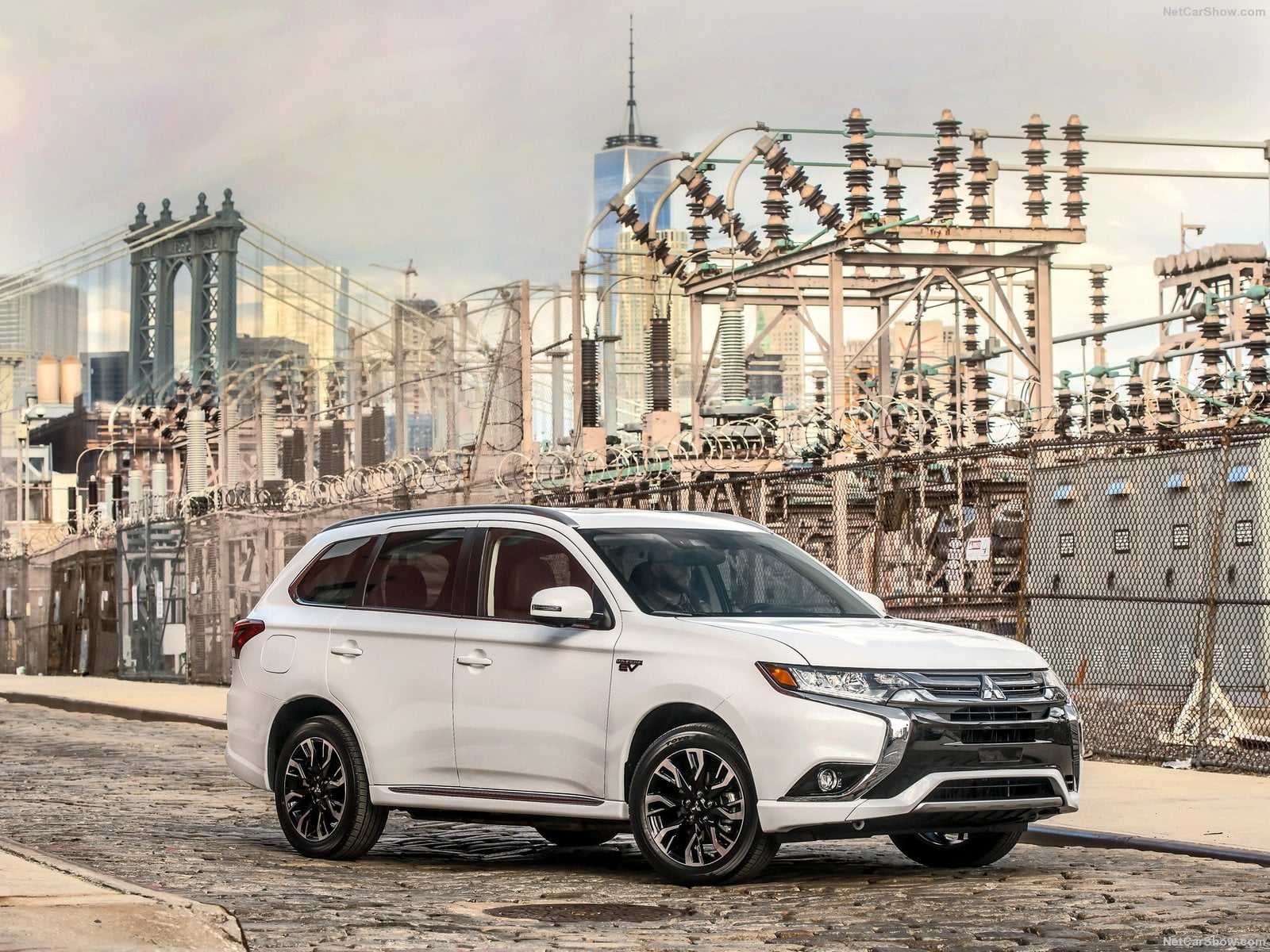 Norway Vehicles in 2016 at record pace. Q1 ends at best ever level, up 5%. Mitsubishi shines with Outlander PHEV second best-selling model behind VW Golf and ahead of the second generation Nissan Leaf.
Following the all time record hit in the 2015, he third in a row, the Norwegian market approached the 2016 with untouched enthusiasm fueled by the process of renovating the car fleet with new hybrids or electric vehicles, heavy sustained by the current rules.
Indeed, according to data released by the Opplysningsrådet for Veitrafikken AS, the Norwegian Road Federation, in the first quarter of this year sales had been 37.086, up 4.9%. The figure could be even better if March would not report a 2% lost after the +4.4% and the +14.1% respectively scored in January and February.
In the first half a new brand joined the podium. It was Nissan despite losing 1.7% of sales. Indeed, Volvo, third in the 2015 fell down in 7th place.
The leader was again Volkswagen selling 6.023 units (-3.3%) with 16.2% of market share. Behind Toyota with 4.037 (-6.9%) already far from the top, and Nissan with 2.620 (-1.7%).
Good wind on the shoulder for BMW, fourth with sales up 41.1%, Mitsubishi (+38.5% in the quarter and +120% in March), Mercedes (+33.8% in Q1 and +66% in March) and Mazda (+59.8% thanks to the new CX-3).
Tesla was in short supply and reported a quarterly lost of 54.0% that should be recovered in the next 3/4 months.
At group wise, Volkswagen Group led with 267% of market share ahead of Toyota with 11.7% and Renault-Nissan alliance with 9.4%.
As far as models, Volkswagen Golf reign is in place again with sales at 3.656 (-7.0%) and market share over 10%. In second place the Mitsubishi Outlander with 1.437 (+109.2%) ahead of the Nissan Leaf with 1.413 (+3.6%).
To see the best-selling car ranking with the top 100 models featured, see the report we have dedicated.
Below, you can sort our interactive tables to see data regarding Brands, Groups and Models. Please bear in mind that sales data are subject to adjustments as sources will update their information. This report is updated at the publishing date and will not be modified while the next on this subject will always have the year to date data updated.
| Rank Mar | Rank Q1 | Brand | Mar | Q1 | Mar Var | Q1 Var | Mar% | Q1% |
| --- | --- | --- | --- | --- | --- | --- | --- | --- |
| 1 | 1 | Volkswagen | 2.236 | 6.023 | -1,7% | -3,3% | 16,1% | 16,2% |
| 2 | 2 | Toyota | 1.537 | 4.017 | 1,9% | -6,9% | 11,1% | 10,8% |
| 3 | 4 | Nissan | 1.105 | 2.620 | 4,5% | -1,7% | 8,0% | 7,1% |
| 4 | 3 | BMW | 933 | 2.921 | 18,9% | 41,1% | 6,7% | 7,9% |
| 5 | 11 | Mitsubishi | 825 | 1.631 | 120,6% | 38,5% | 5,9% | 4,4% |
| 6 | 6 | Mercedes | 817 | 2.103 | 66,1% | 33,8% | 5,9% | 5,7% |
| 7 | 5 | Ford | 717 | 2.223 | -13,5% | 6,5% | 5,2% | 6,0% |
| 8 | 7 | Volvo | 687 | 2.062 | -21,5% | 26,2% | 5,0% | 5,6% |
| 9 | 8 | Skoda | 662 | 1.943 | -2,5% | 14,9% | 4,8% | 5,2% |
| 10 | 9 | Mazda | 550 | 1.822 | 41,0% | 59,8% | 4,0% | 4,9% |
| 11 | 10 | Audi | 543 | 1.633 | -9,2% | 18,9% | 3,9% | 4,4% |
| 12 | 17 | Tesla | 487 | 705 | -57,3% | -54,0% | 3,5% | 1,9% |
| 13 | 15 | Renault | 453 | 814 | 53,0% | 42,8% | 3,3% | 2,2% |
| 14 | 12 | Peugeot | 405 | 1.270 | -22,9% | -2,2% | 2,9% | 3,4% |
| 15 | 13 | Kia | 367 | 972 | -2,4% | -3,4% | 2,6% | 2,6% |
| 16 | 14 | Suzuki | 292 | 872 | -6,1% | 3,3% | 2,1% | 2,4% |
| 17 | 16 | Opel | 279 | 790 | -18,9% | -7,9% | 2,0% | 2,1% |
| 18 | 19 | Honda | 182 | 468 | -32,8% | -15,2% | 1,3% | 1,3% |
| 19 | 22 | Subaru | 169 | 300 | -42,5% | -51,1% | 1,2% | 0,8% |
| 20 | 20 | Hyundai | 159 | 427 | -21,3% | -32,5% | 1,1% | 1,2% |
| 21 | 18 | Citroen | 155 | 500 | -16,7% | 0,0% | 1,1% | 1,3% |
| 22 | 21 | Lexus | 74 | 316 | -23,7% | -7,1% | 0,5% | 0,9% |
| 23 | 23 | Mini | 55 | 172 | -23,6% | -9,9% | 0,4% | 0,5% |
| 24 | 26 | DS | 37 | 64 | | | 0,3% | 0,2% |
| 25 | 25 | Land Rover | 33 | 108 | -58,2% | -30,3% | 0,2% | 0,3% |
| 26 | 24 | Porsche | 30 | 124 | 7,1% | 33,3% | 0,2% | 0,3% |
| 27 | 28 | Dacia | 24 | 45 | 4,3% | -22,4% | 0,2% | 0,1% |
| 28 | 27 | Jaguar | 19 | 63 | 1800,0% | 472,7% | 0,1% | 0,2% |
| 29 | 29 | Fiat | 17 | 27 | -22,7% | -46,0% | 0,1% | 0,1% |
| 30 | 32 | Jeep | 8 | 16 | -57,9% | -74,6% | 0,1% | 0,0% |
| 31 | 30 | Smart | 6 | 23 | 100,0% | 283,3% | 0,0% | 0,1% |
| 32 | 31 | SsangYong | 5 | 21 | | | 0,0% | 0,1% |
| 33 | 33 | Alfa Romeo | 3 | 5 | 0,0% | -61,5% | 0,0% | 0,0% |
| 34 | 35 | Aston Martin | 2 | 2 | | | 0,0% | 0,0% |
| Rank Mar | Rank Q1 | Group | Mar | Q1 | Mar Var | Q1 Var | Mar% | Q1% |
| --- | --- | --- | --- | --- | --- | --- | --- | --- |
| 1 | 1 | Volkswagen | 3.471 | 9.723 | -3,0% | 3,6% | 25,0% | 26,2% |
| 2 | 2 | Toyota | 1.611 | 4.333 | 0,3% | -7,0% | 11,6% | 11,7% |
| 3 | 3 | Renault-Nissan | 1.582 | 3.479 | 15,0% | 5,6% | 11,4% | 9,4% |
| 4 | 4 | BMW | 988 | 3.093 | 15,3% | 36,8% | 7,1% | 8,3% |
| 5 | 10 | Mitsubishi | 825 | 1.631 | 120,6% | 38,5% | 5,9% | 4,4% |
| 6 | 6 | Mercedes Daimler | 823 | 2.126 | 66,3% | 34,7% | 5,9% | 5,7% |
| 7 | 5 | Ford | 717 | 2.223 | -13,5% | 6,5% | 5,2% | 6,0% |
| 8 | 7 | Geely Group | 687 | 2.062 | -21,5% | 26,2% | 5,0% | 5,6% |
| 9 | 8 | PSA | 597 | 1.834 | -16,0% | 1,9% | 4,3% | 4,9% |
| 10 | 9 | Mazda | 550 | 1.822 | 41,0% | 59,8% | 4,0% | 4,9% |
| Rank Mar | Rank Q1 | Model | Mar | Q1 | Mar Var | Q1 Var | Mar% | Q1% |
| --- | --- | --- | --- | --- | --- | --- | --- | --- |
| 1 | 1 | Volkswagen Golf | 1.411 | 3.656 | -0,7% | -7,0% | 10,5% | 10,21% |
| 2 | 2 | Mitsubishi Outlander | 739 | 1.437 | 262,3% | 109,2% | 5,5% | 4,01% |
| 3 | 3 | Nissan Leaf | 676 | 1.413 | 28,5% | 30,6% | 5,0% | 3,95% |
| 4 | 7 | Volkswagen Passat | 372 | 918 | 62,4% | 33,6% | 2,8% | 2,56% |
| 5 | 6 | Toyota Yaris | 361 | 974 | -4,7% | -6,8% | 2,7% | 2,72% |
| 5 | 5 | Toyota Auris | 361 | 993 | -25,7% | -14,7% | 2,7% | 2,77% |
| 6 | 4 | Toyota RAV4 | 304 | 1.068 | -21,0% | -22,0% | 2,3% | 2,98% |
| 7 | 8 | Skoda Octavia | 285 | 897 | -30,7% | -15,5% | 2,1% | 2,51% |
| 8 | 9 | Audi A3 | 266 | 748 | -5,3% | 23,2% | 2,0% | 2,09% |
| 9 | 11 | Mazda CX-5 | 231 | 704 | 28,3% | 15,0% | 1,7% | 1,97% |
| 10 | 17 | Volvo V70 | 214 | 524 | -7,8% | 20,5% | 1,6% | 1,46% |
| 11 | 14 | Nissan Qashqai | 191 | 574 | -29,8% | -31,2% | 1,4% | 1,60% |
| 12 | 13 | Skoda Superb | 188 | 592 | 193,8% | 281,9% | 1,4% | 1,65% |
| 13 | 53 | Suzuki SX4/ S-Cross | 187 | 187 | 0,0% | -65,5% | 1,4% | 0,52% |
| 14 | 15 | Ford S-max | 178 | 547 | 584,6% | 324,0% | 1,3% | 1,53% |
| 15 | 10 | BMW i3 | 177 | 719 | 108,2% | 130,4% | 1,3% | 2,01% |
| 16 | 18 | Ford Mondeo | 153 | 521 | -46,1% | -8,6% | 1,1% | 1,46% |
| 17 | 25 | Toyota Avensis | 152 | 405 | 42,1% | 50,6% | 1,1% | 1,13% |
| 18 | 20 | Volvo V60 | 150 | 464 | 0,0% | 62,8% | 1,1% | 1,30% |
| 18 | 16 | Suzuki Vitara | 150 | 525 | 328,6% | 1066,7% | 1,1% | 1,47% |
| 19 | 19 | Volvo XC90 | 149 | 515 | | | 1,1% | 1,44% |
| 20 | 36 | Kia Sportage | 148 | 324 | 5,0% | -15,0% | 1,1% | 0,90% |
| 21 | 21 | Peugeot 308 | 144 | 460 | -14,3% | 15,3% | 1,1% | 1,28% |
| 21 | 37 | Toyota Prius | 144 | 323 | 136,1% | 30,2% | 1,1% | 0,90% |
| 22 | 22 | Volkswagen Up! | 142 | 445 | -34,6% | -26,4% | 1,1% | 1,24% |
| 22 | 28 | Ford Kuga | 142 | 357 | 19,3% | -10,5% | 1,1% | 1,00% |
| 23 | 24 | Ford Focus | 140 | 407 | -22,2% | -15,2% | 1,0% | 1,14% |
| 24 | 12 | Mazda CX-3 | 138 | 657 | #DIV/0! | #DIV/0! | 1,0% | 1,83% |
| 25 | 23 | Mercedes C Class | 135 | 424 | 1,5% | -12,2% | 1,0% | 1,18% |
(384)