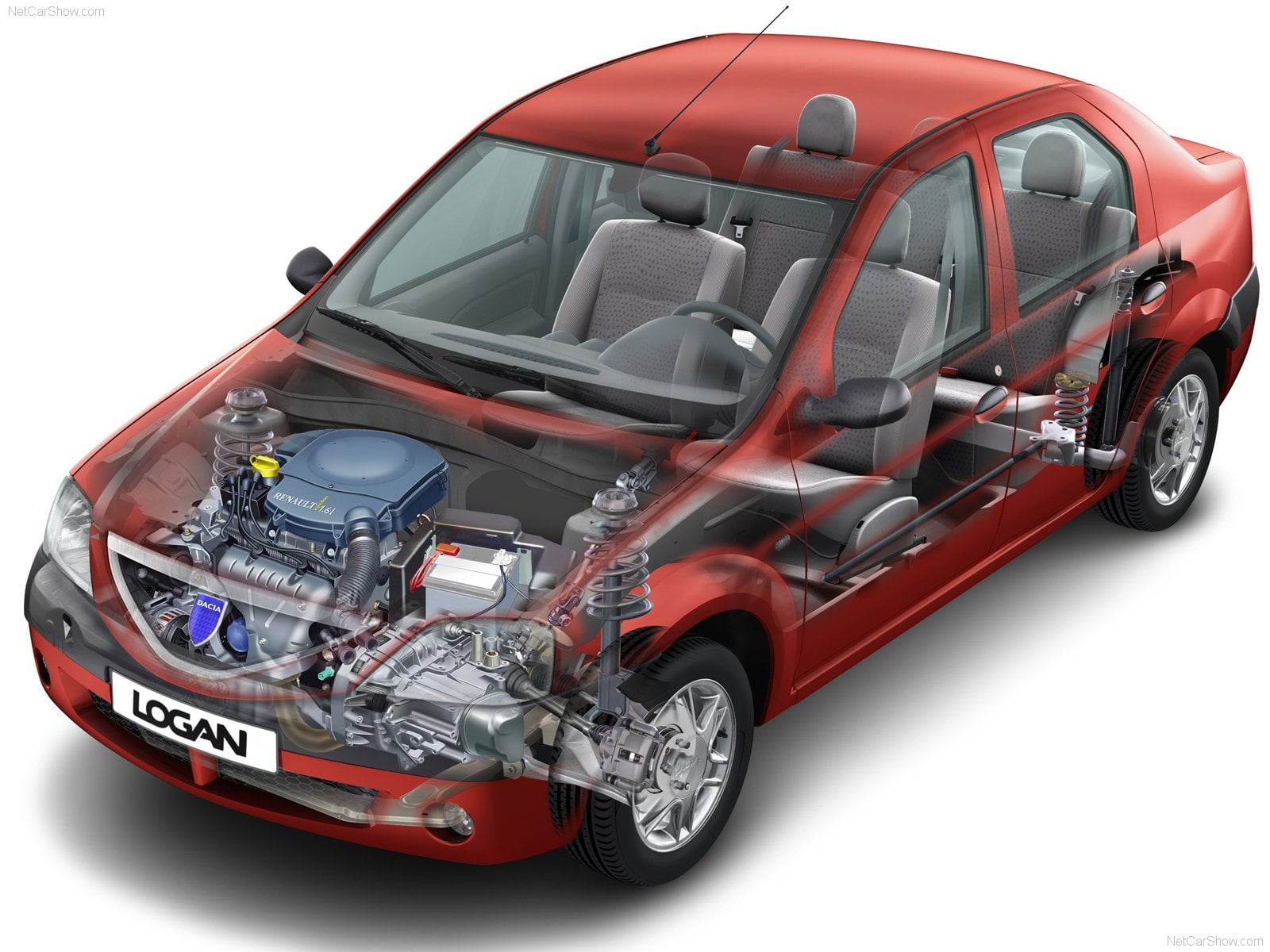 Romania Best Selling Cars in the first half of the 2016 with the traditional leader, albeit in negative shape. Dacia and Skoda models dominate the ranking while Renault Clio shines.
According to data released by the Romanian Department of Internal Transportation, in the first half of the 2016 the best-selling model in the country was again the Dacia Logan, first of the list of Dacia models dominating the market.
Let's take the opportunity to spend few worlds on this car!
The Dacia Logan is a small family car or compact MPV (Logan MCV) produced jointly by the French manufacturer Renault and its Romanian subsidiary Dacia since 2004. It is currently in its second generation, launched in the 2013 and has been manufactured at Dacia's automobile plant in Mioveni, Romania, and at Renault's plants in Morocco, Brazil, Turkey,Russia, Colombia, Iran, India and South Africa.
It has also been marketed as the Renault Logan, Nissan Aprio, Mahindra Verito, Renault Tondar 90, Lada Largus (the MCV), Nissan NP200 (the pick-up) or Renault Symbol, depending on the existing presence or positioning of the Renault brand.
The Dacia Logan first half sales had been 5.275 (-17.3%) a huge gap over the second, the Dacia Duster (2.022 sales, -26.0%) and the third, the Skoda Octavia with 1.589 (+5.9%).
In fourth place the Renault Clio with 1.111 (+66.8%) followed by the Skoda Rapid with 1.074 (-6.3%) and the Ford Focus with 1.065 (+15.5%).
Research, Consulting, Data & Forecast Store
F2M covers intensively this market with several products developed to help any investigation required.
Market Researches in PDF are immediately available for download with study on the market since 2005 and with forecast up to the 2020.
Auto Data in EXCEL are immediately downloadable with annual sales volume, split by month, for all brands and all models distributed in the market. This year data are released year to date, but you will receive a monthly update until the year-end.
All these and more within our Romania Store.
Below, you can sort our interactive tables to see data regarding Brands, Groups and Models. Please bear in mind that sales data are subject to adjustments as sources will update their information. This report is updated at the publishing date and will not be modified while the next on this subject will always have the year to date data updated.
| Rank 2015 | Rank 2014 | Model | Sales 2015 | Sale 2014 | 2015 Var | Share 2015 | Share 2014 |
| --- | --- | --- | --- | --- | --- | --- | --- |
| 1 | 1 | Dacia Logan | 16.452 | 13.394 | 22,8% | 20,6% | 19,4% |
| 2 | 2 | Dacia Duster | 5.694 | 4.633 | 22,9% | 7,1% | 6,7% |
| 3 | 3 | Skoda Octavia | 3.370 | 3.146 | 7,1% | 4,2% | 4,6% |
| 4 | 5 | Dacia Sandero | 2.895 | 2.460 | 17,7% | 3,6% | 3,6% |
| 5 | 6 | Skoda Rapid | 2.360 | 2.093 | 12,8% | 3,0% | 3,0% |
| 6 | 8 | Ford Focus | 2.132 | 1.646 | 29,5% | 2,7% | 2,4% |
| 7 | 4 | Ford Fiesta | 1.948 | 2.574 | -24,3% | 2,4% | 3,7% |
| 8 | 9 | Renault Clio | 1.901 | 1.528 | 24,4% | 2,4% | 2,2% |
| 9 | 7 | Volkswagen Golf | 1.725 | 1.738 | -0,7% | 2,2% | 2,5% |
| 10 | 11 | Volkswagen Passat | 1.437 | 1.361 | 5,6% | 1,8% | 2,0% |
| 11 | 10 | Dacia Dokker | 1.409 | 1.374 | 2,5% | 1,8% | 2,0% |
| 12 | 15 | Volkswagen Jetta | 1.242 | 891 | 39,4% | 1,6% | 1,3% |
| 13 | 22 | Fiat 500L | 1.202 | 557 | 115,8% | 1,5% | 0,8% |
| 14 | 16 | Volkswagen Polo | 1.130 | 823 | 37,3% | 1,4% | 1,2% |
| 15 | 34 | Kia Sportage | 1.081 | 446 | 142,4% | 1,4% | 0,6% |
| 16 | 20 | Renault Captur | 1.074 | 718 | 49,6% | 1,3% | 1,0% |
| 17 | 19 | Skoda Fabia | 1.005 | 741 | 35,6% | 1,3% | 1,1% |
| 18 | 12 | Opel Astra | 999 | 1.148 | -13,0% | 1,3% | 1,7% |
| 19 | 18 | Hyundai i20 | 889 | 767 | 15,9% | 1,1% | 1,1% |
| 20 | 31 | Toyota Corolla | 840 | 484 | 73,6% | 1,1% | 0,7% |
| 21 | 17 | Renault Mégane | 711 | 796 | -10,7% | 0,9% | 1,2% |
| 22 | 14 | Opel Corsa | 703 | 1.077 | -34,7% | 0,9% | 1,6% |
| 23 | 27 | Ford Mondeo | 664 | 507 | 31,0% | 0,8% | 0,7% |
| 24 | 13 | Fiat 500 | 654 | 1.100 | -40,5% | 0,8% | 1,6% |
| 25 | 140 | Suzuki Vitara | 648 | - | | 0,8% | 0,0% |
| 26 | 21 | Renault Fluence | 632 | 715 | -11,6% | 0,8% | 1,0% |
| 27 | 23 | Nissan Qashqai | 631 | 556 | 13,5% | 0,8% | 0,8% |
| 28 | 29 | Toyota Yaris | 607 | 494 | 22,9% | 0,8% | 0,7% |
| 29 | 25 | Volkswagen Tiguan | 604 | 548 | 10,2% | 0,8% | 0,8% |
| 30 | 26 | Dacia Lodgy | 589 | 518 | 13,7% | 0,7% | 0,8% |
| 31 | 38 | Opel Mokka | 560 | 392 | 42,9% | 0,7% | 0,6% |
| 32 | 32 | Skoda Superb | 502 | 457 | 9,8% | 0,6% | 0,7% |
| 33 | 49 | Opel Antara | 494 | 308 | 60,4% | 0,6% | 0,4% |
| 34 | 30 | Hyundai i30 | 479 | 491 | -2,4% | 0,6% | 0,7% |
| 35 | 47 | Toyota Aygo | 439 | 319 | 37,6% | 0,6% | 0,5% |
| 36 | 53 | Mazda3 | 421 | 265 | 58,9% | 0,5% | 0,4% |
| 37 | 36 | Ford Kuga | 415 | 421 | -1,4% | 0,5% | 0,6% |
| 38 | 50 | Mercedes C Class | 398 | 292 | 36,3% | 0,5% | 0,4% |
| 39 | 81 | Citroen C-Elysée | 393 | 141 | 179,4% | 0,5% | 0,2% |
| 40 | 40 | Toyota Auris | 392 | 372 | 5,4% | 0,5% | 0,5% |
| 41 | 73 | Honda Civic | 390 | 180 | 116,7% | 0,5% | 0,3% |
| 42 | 24 | Opel Insignia | 389 | 549 | -29,1% | 0,5% | 0,8% |
| 43 | 59 | Seat Toledo | 388 | 237 | 63,7% | 0,5% | 0,3% |
| 44 | 43 | Peugeot 308 | 385 | 358 | 7,5% | 0,5% | 0,5% |
| 45 | 92 | Kia Cee'd | 382 | 110 | 247,3% | 0,5% | 0,2% |
| 46 | 54 | Nissan Juke | 365 | 263 | 38,8% | 0,5% | 0,4% |
| 47 | 67 | Peugeot 208 | 364 | 206 | 76,7% | 0,5% | 0,3% |
| 48 | 41 | BMW X5 | 353 | 366 | -3,6% | 0,4% | 0,5% |
| 49 | 33 | Volkswagen Touareg | 342 | 456 | -25,0% | 0,4% | 0,7% |
| 50 | 39 | Land Rover Range Rover Evoque | 331 | 389 | -14,9% | 0,4% | 0,6% |
| 51 | 43 | Toyota RAV4 | 320 | 358 | -10,6% | 0,4% | 0,5% |
| 52 | 42 | Hyundai Elantra | 316 | 361 | -12,5% | 0,4% | 0,5% |
| 53 | 55 | Volkswagen Up! | 294 | 253 | 16,2% | 0,4% | 0,4% |
| 54 | 140 | Mercedes GLE | 289 | - | | 0,4% | 0,0% |
| 55 | 61 | Mercedes A Class | 285 | 233 | 22,3% | 0,4% | 0,3% |
| 56 | 28 | Hyundai ix35 | 281 | 501 | -43,9% | 0,4% | 0,7% |
| 57 | 44 | Mazda CX-5 | 279 | 355 | -21,4% | 0,3% | 0,5% |
| 58 | 35 | Suzuki SX4 | 278 | 439 | -36,7% | 0,3% | 0,6% |
| 59 | 61 | BMW X3 | 276 | 233 | 18,5% | 0,3% | 0,3% |
| 59 | 37 | Mercedes ML Class | 276 | 401 | -31,2% | 0,3% | 0,6% |
| 60 | 140 | Renault Kadjar | 273 | - | | 0,3% | 0,0% |
| 61 | 65 | Honda CR-V | 272 | 216 | 25,9% | 0,3% | 0,3% |
| 62 | 52 | Land Rover Range Rover Sport | 271 | 268 | 1,1% | 0,3% | 0,4% |
| 63 | 62 | Audi A3 | 269 | 231 | 16,5% | 0,3% | 0,3% |
| 64 | 66 | Seat Leon | 267 | 207 | 29,0% | 0,3% | 0,3% |
| 65 | 96 | BMW X6 | 261 | 96 | 173,1% | 0,3% | 0,1% |
| 66 | 99 | Hyundai i10 | 254 | 89 | 185,4% | 0,3% | 0,1% |
| 67 | 51 | Peugeot 301 | 248 | 274 | -9,5% | 0,3% | 0,4% |
| 67 | 140 | Hyundai Tucson | 248 | - | | 0,3% | 0,0% |
| 68 | 48 | Mitsubishi ASX | 245 | 309 | -20,7% | 0,3% | 0,4% |
| 69 | 72 | Mercedes GLA | 236 | 193 | 22,3% | 0,3% | 0,3% |
| 70 | 57 | BMW 3 Series | 235 | 244 | -3,7% | 0,3% | 0,4% |
| 71 | 126 | Citroen C4 Cactus | 223 | 28 | 696,4% | 0,3% | 0,0% |
| 72 | 87 | Mitsubishi Outlander | 221 | 122 | 81,1% | 0,3% | 0,2% |
| 73 | 76 | Audi Q5 | 218 | 167 | 30,5% | 0,3% | 0,2% |
| 74 | 45 | Skoda Citigo | 215 | 343 | -37,3% | 0,3% | 0,5% |
| 75 | 71 | Audi Q3 | 200 | 197 | 1,5% | 0,3% | 0,3% |
| 76 | 69 | Mazda6 | 199 | 199 | 0,0% | 0,2% | 0,3% |
| 77 | 58 | Peugeot 2008 | 198 | 238 | -16,8% | 0,2% | 0,3% |
| 78 | 60 | Audi A4 | 182 | 234 | -22,2% | 0,2% | 0,3% |
| 79 | 64 | BMW X1 | 181 | 219 | -17,4% | 0,2% | 0,3% |
| 80 | 56 | Mercedes GLK | 177 | 249 | -28,9% | 0,2% | 0,4% |
| 81 | 70 | Mercedes S Class | 176 | 198 | -11,1% | 0,2% | 0,3% |
| 81 | 63 | BMW 5 Series | 176 | 226 | -22,1% | 0,2% | 0,3% |
| 82 | 70 | Audi A6 | 174 | 198 | -12,1% | 0,2% | 0,3% |
| 83 | 46 | Suzuki Swift | 166 | 333 | -50,2% | 0,2% | 0,5% |
| 84 | 74 | Mercedes E Class | 165 | 175 | -5,7% | 0,2% | 0,3% |
| 85 | 108 | Kia Rio | 161 | 69 | 133,3% | 0,2% | 0,1% |
| 86 | 78 | Hyundai i40 | 152 | 159 | -4,4% | 0,2% | 0,2% |
| 87 | 88 | Nissan X-Trail | 150 | 121 | 24,2% | 0,2% | 0,2% |
| 88 | 77 | Jeep Grand Cherokee | 148 | 159 | -7,0% | 0,2% | 0,2% |
| 88 | 86 | Volvo XC60 | 148 | 129 | 14,9% | 0,2% | 0,2% |
| 89 | 118 | BMW X4 | 146 | 51 | 186,3% | 0,2% | 0,1% |
| 90 | 91 | Land Rover Range Rover | 143 | 111 | 28,6% | 0,2% | 0,2% |
| 91 | 98 | Mini | 141 | 92 | 53,1% | 0,2% | 0,1% |
| 92 | 84 | Toyota Avensis | 138 | 131 | 5,3% | 0,2% | 0,2% |
| 93 | 116 | BMW 1 Series | 135 | 55 | 145,5% | 0,2% | 0,1% |
| 94 | 94 | Nissan Micra | 132 | 101 | 30,6% | 0,2% | 0,1% |
| 95 | 80 | Mercedes CLA | 129 | 145 | -11,0% | 0,2% | 0,2% |
| 96 | 85 | Toyota Land Cruiser | 124 | 129 | -3,9% | 0,2% | 0,2% |
| 97 | 115 | Audi Q7 | 123 | 58 | 112,1% | 0,2% | 0,1% |
| 98 | 140 | Mazda CX-3 | 120 | - | | 0,2% | 0,0% |
| 99 | 93 | Peugeot 508 | 118 | 106 | 11,3% | 0,1% | 0,2% |
| 100 | 140 | Land Rover Discovery Sport | 117 | - | | 0,1% | 0,0% |
(7)