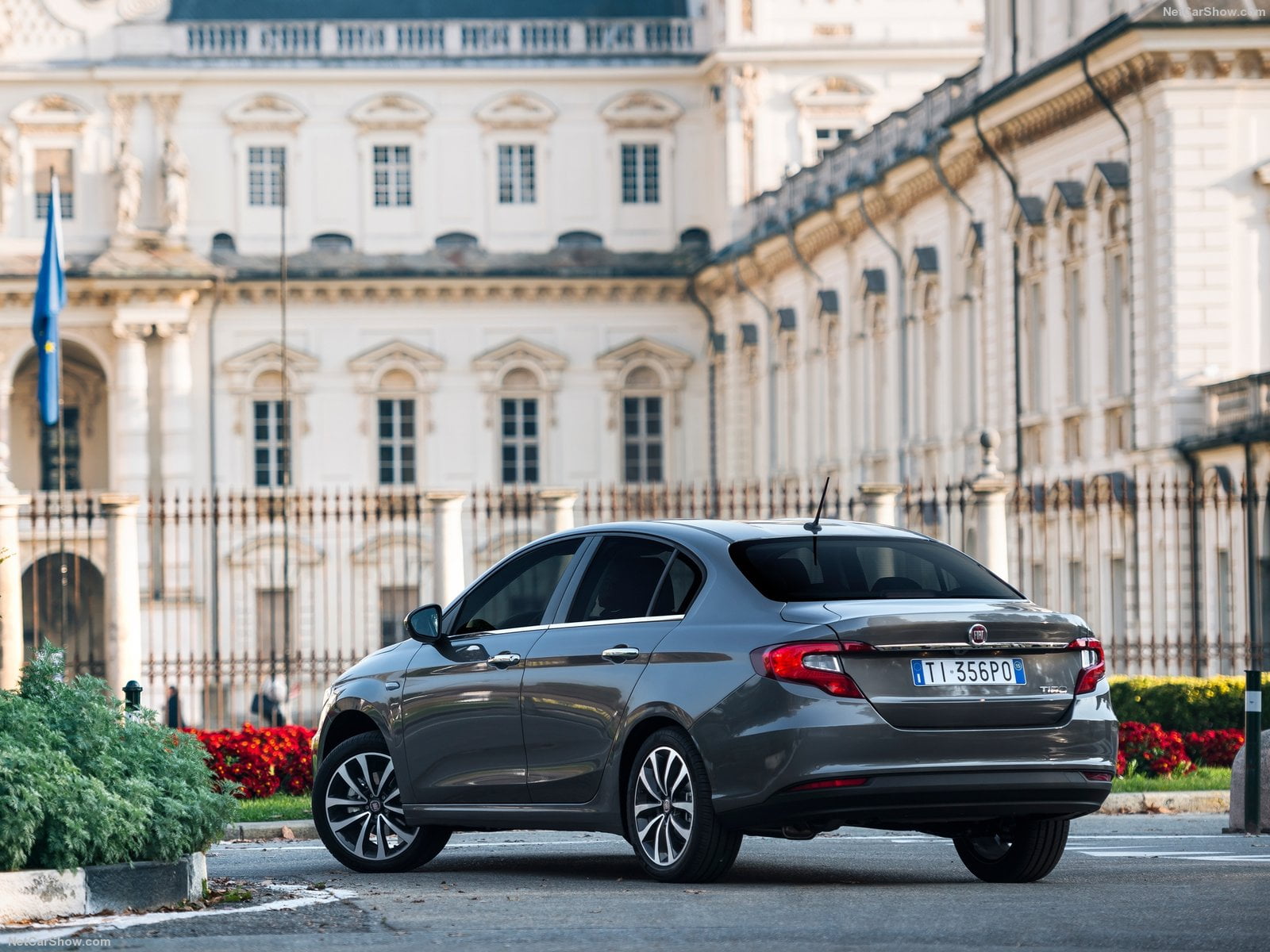 Turkey best selling cars 2016 ranking led by the new Fiat Egea produced locally as the second and former leader, the Toyota Corolla. The Renault Clio replaced the Fluence in the podium.
As reported in the dedicated articles, the Turkish vehicles market in the 2016 celebrated the new all time record, the second in a row, very close to the wall of 1 million units.
According to data released by the O.D.D. the Otomotiv Distribütörleri Derneği (Car Distributors Association in Turkey), the best-selling car in Turkey during the full year 2016 had been the new Fiat Egea, produced locally since the fall of 2015 and exported in the rest of Europe under the name "Tipo".
Here the Fiat Egea was sold in 38.260 units gaining month after month a solid advantage over the former leader, the Toyota Corolla, locally produced as well, ending the year with 33.259 sales (-5.6%).
In third place the Renault Clio, first time on the podium, with 29.743 sales (-4.3%).
In fourth place the Volkswagen Passat with 28.946 units (-4.3%) followed by Volkswagen Polo with 27.758 units (+27.4%) and the Renault Symbol with 25.273 (+5.6).
In seventh place the Opel Astra sedan with 24.972 sales (+185%) followed by the Renault Fluence with 21.877 (-35.2%), the Volkswagen Golf with 21.434 (-12.2%) and in 10th place the Hyundai i20 with 21.215 units (-3.0%).
Research, Consulting, Data & Forecast Store
F2M covers intensively this market with several products developed to help any investigation required.
Market Researches in PDF are immediately available for download with study on the market since 2005 and with forecast up to the 2022.
Auto Data in EXCEL are immediately downloadable with annual sales volume, split by month, for all brands and all models distributed in the market. This year data are released year to date, but you will receive a monthly update until the year-end.
All these and more within our  Turkey Corner Store
Below, you can sort our interactive tables to see data regarding Brands, Groups and Models. Please bear in mind that sales data are subject to adjustments as sources will update their information. This report is updated at the publishing date and will not be modified while the next on this subject will always have the year to date data updated.
| Rank 2016 | Rank 2015 | Best | Sales 2016 | Sales 2015 | Variation 2016 |
| --- | --- | --- | --- | --- | --- |
| 1 | 34 | Fiat Egea | 38.260 | 5.674 | 574,3% |
| 2 | 1 | Toyota Corolla sedan | 33.259 | 35.237 | -5,6% |
| 3 | 4 | Renault Clio | 29.743 | 31.077 | -4,3% |
| 4 | 5 | Volkswagen Passat | 28.946 | 30.249 | -4,3% |
| 5 | 10 | Volkswagen Polo | 27.578 | 21.650 | 27,4% |
| 6 | 7 | Renault Symbol | 25.273 | 23.922 | 5,6% |
| 7 | 27 | Opel Astra sedan | 24.972 | 8.741 | 185,7% |
| 8 | 3 | Renault Fluence | 21.877 | 33.764 | -35,2% |
| 9 | 6 | Volkswagen Golf | 21.434 | 24.400 | -12,2% |
| 10 | 9 | Hyundai i20 | 21.215 | 21.872 | -3,0% |
| 11 | 13 | Nissan Qashqai | 18.365 | 17.413 | 5,5% |
| 12 | 18 | Dacia Sandero | 16.780 | 11.516 | 45,7% |
| 13 | 14 | Dacia Duster | 16.707 | 15.268 | 9,4% |
| 14 | 8 | Ford Focus sedan | 14.464 | 23.669 | -38,9% |
| 15 | 23 | Mercedes C Class | 13.984 | 10.618 | 31,7% |
| 16 | 21 | Citroen C-Elysée | 13.386 | 10.914 | 22,6% |
| 17 | 24 | Skoda Octavia | 12.862 | 10.086 | 27,5% |
| 18 | 16 | Hyundai Accent sedan | 12.153 | 13.117 | -7,3% |
| 19 | 19 | Honda Civic sedan | 11.953 | 11.079 | 7,9% |
| 20 | 20 | Peugeot 301 | 11.812 | 10.970 | 7,7% |
| 21 | 26 | Seat Leon | 11.668 | 8.899 | 31,1% |
| 22 | 15 | Opel Corsa | 11.230 | 13.188 | -14,8% |
| 23 | 11 | Volkswagen Jetta | 11.174 | 21.535 | -48,1% |
| 24 | 43 | Renault Mégane | 10.591 | 4.796 | 120,8% |
| 25 | 36 | Volkswagen Tiguan | 9.373 | 5.357 | 75,0% |
| 26 | 22 | Ford Fiesta | 8.607 | 10.777 | -20,1% |
| 27 | 57 | Hyundai Tucson | 8.585 | 3.235 | 165,4% |
| 28 | 25 | BMW 3 Series | 8.158 | 9.251 | -11,8% |
| 29 | 45 | Skoda Superb | 7.872 | 4.324 | 82,1% |
| 30 | 2 | Fiat Linea | 7.724 | 35.041 | -78,0% |
| 31 | 53 | Opel Insignia | 7.393 | 3.531 | 109,4% |
| 32 | 12 | Opel Astra HB | 7.281 | 18.909 | -61,5% |
| 33 | 28 | BMW 5 Series | 7.123 | 8.343 | -14,6% |
| 34 | 41 | Honda CR-V | 7.114 | 4.904 | 45,1% |
| 35 | 32 | Seat Ibiza | 7.075 | 5.922 | 19,5% |
| 36 | 48 | Renault Kadjar | 6.757 | 3.877 | 74,3% |
| 37 | 50 | Ford Focus | 6.715 | 3.772 | 78,0% |
| 38 | 31 | Mercedes E Class | 6.632 | 6.571 | 0,9% |
| 39 | 17 | Audi A3 | 6.507 | 11.695 | -44,4% |
| 40 | 33 | Toyota Auris | 6.093 | 5.872 | 3,8% |
| 41 | 29 | Kia Sportage | 5.785 | 7.607 | -24,0% |
| 42 | 30 | Dacia Dokker | 5.422 | 7.555 | -28,2% |
| 43 | | Audi A3 sedan | 5.005 | | |
| 44 | 51 | Audi A4 | 4.969 | 3.700 | 34,3% |
| 45 | 35 | Dacia Lodgy | 4.838 | 5.371 | -9,9% |
| 46 | 37 | BMW 1 Series | 4.676 | 5.275 | -11,4% |
| 47 | 40 | Toyota Yaris | 4.579 | 5.040 | -9,1% |
| 48 | 38 | Opel Mokka | 4.508 | 5.243 | -14,0% |
| 49 | | Suzuki Vitara | 4.442 | | |
| 50 | 65 | Nissan Micra | 4.225 | 2.588 | 63,3% |
| 51 | 80 | Hyundai Elantra | 3.998 | 1.418 | 182,0% |
| 52 | 54 | Nissan X-Trail | 3.943 | 3.457 | 14,1% |
| 53 | 49 | Peugeot 208 | 3.886 | 3.854 | 0,8% |
| 54 | 47 | Renault Captur | 3.783 | 3.902 | -3,0% |
| 55 | 56 | Mercedes A Class | 3.711 | 3.282 | 13,1% |
| 56 | 42 | Mercedes CLA | 3.500 | 4.889 | -28,4% |
| 57 | 73 | Skoda Fabia | 3.293 | 1.834 | 79,6% |
| 58 | | Kia Cerato | 3.148 | | |
| 59 | 52 | Kia Rio | 3.065 | 3.662 | -16,3% |
| 60 | 44 | Hyundai i30 | 2.987 | 4.600 | -35,1% |
| 61 | 59 | Peugeot 308 | 2.844 | 3.010 | -5,5% |
| 62 | 60 | Nissan Juke | 2.716 | 2.878 | -5,6% |
| 63 | 66 | Peugeot 2008 | 2.659 | 2.496 | 6,5% |
| 64 | 87 | Peugeot 3008 | 2.398 | 995 | 141,0% |
| 65 | 46 | Skoda Rapid | 2.341 | 4.164 | -43,8% |
| 66 | 61 | Volkswagen CC | 2.249 | 2.780 | -19,1% |
| 67 | 74 | Audi A6 | 2.196 | 1.808 | 21,5% |
| 68 | | Skoda Rapid Spaceback | 2.063 | | |
| 69 | 63 | BMW 4 Series | 2.023 | 2.619 | -22,8% |
| 70 | 93 | BMW X1 | 2.010 | 898 | 123,8% |
| 71 | | Renault Talisman | 1.987 | | |
| 72 | 75 | Mercedes GLA | 1.957 | 1.741 | 12,4% |
| 73 | 58 | Hyundai i10 | 1.840 | 3.095 | -40,5% |
| 74 | 68 | Jeep Renegade | 1.737 | 2.191 | -20,7% |
| 75 | | Toyota C-HR | 1.719 | | |
| 76 | 85 | Mini | 1.688 | 1.197 | 41,1% |
| 77 | 72 | Seat Toledo | 1.648 | 1.849 | -10,9% |
| 78 | 71 | Citroen C4 Cactus | 1.552 | 1.883 | -17,6% |
| 79 | | Mazda2 | 1.427 | | |
| 80 | 55 | Volvo S60 | 1.419 | 3.456 | -58,9% |
| 81 | 67 | Ford Mondeo | 1.405 | 2.219 | -36,7% |
| 82 | 70 | Fiat 500L | 1.308 | 2.096 | -37,6% |
| 83 | 64 | Kia Cee'd | 1.263 | 2.607 | -51,6% |
| 84 | 84 | Peugeot 508 | 1.156 | 1.235 | -6,4% |
| 85 | | Suzuki Swift | 1.154 | 11 | |
| 86 | 77 | Mercedes B Class | 1.026 | 1.544 | -33,6% |
| 87 | 86 | Audi Q3 | 1.018 | 1.081 | -5,8% |
| 88 | 79 | Citroen C4 | 1.000 | 1.448 | -30,9% |
| 89 | 78 | Ford Kuga | 960 | 1.501 | -36,0% |
| 90 | 90 | Ford C-max | 901 | 965 | -6,6% |
| 91 | 82 | BMW X5 | 889 | 1.331 | -33,2% |
| 92 | 69 | Volvo V40 | 851 | 2.145 | -60,3% |
| 93 | | Nissan Pulsar | 818 | | |
| 94 | 134 | Honda Jazz | 765 | 222 | 244,6% |
| 95 | 98 | Volvo XC60 | 762 | 661 | 15,3% |
| 96 | 109 | Audi Q5 | 748 | 437 | 71,2% |
| 97 | 83 | Fiat 500x | 742 | 1.257 | -41,0% |
| 98 | 81 | BMW X3 | 741 | 1.333 | -44,4% |
| 99 | 97 | Subaru Forester | 706 | 735 | -3,9% |
| 100 | 115 | Toyota Verso | 691 | 398 | 73,6% |
(53)