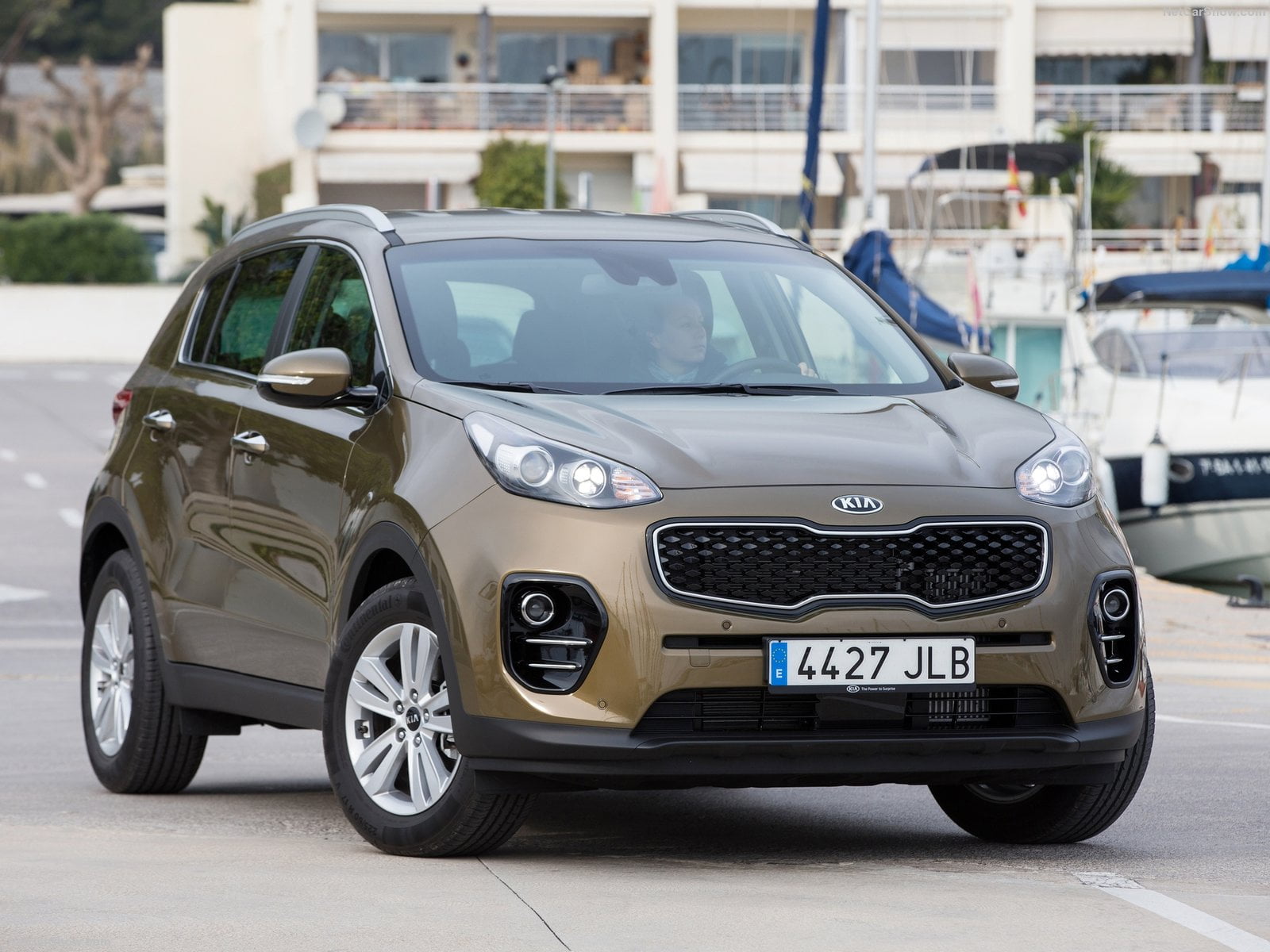 Ukraine Light Vehicles Sales fast recovering in the first half 2016. Skoda and Kia advanced within the top five while the Kia Sportage scored an amazing improvement jumping in third place.
Ukraine's battered economy disappointed in the first quarter, managing only a meagre expansion despite extremely supportive base effects. Recent data suggest that the economy closed Q2 on a weak note as industrial production returned to contraction after four months of increases.
The Ukrainian automotive industry, in the first half of the year started to recovery posting an outstanding increase following years of falls.
According to data released by the Ukrautoprom, the Ukrainian Associations of Car Manufacturers, the second quarter started with 5.204 units in April, up 53.2%, followed by May at 5.098 (+51.4%) and June at 5.002 (+36.4%).
Total new light passengers vehicles sold during the first half of the 2016 had been 27.590, improving 45.9% compared to the same period of the previous year.
In the first half 2016 the market leader was Toyota with 3.114 sales  (+82.7%) and 11.2% of market share. Renault was in second place with 2.593 units (+53.4%) ahead of Volkswagen with 2.164 (+84.5%), Skoda with 1.684 (+102.2%) and Kia with 1.507 (+108.1%).
Others great performances by BMW with 1.502 sales (+154.1%) and Mercedes with 1.078 (+71.4%).
As far as the Car Groups performance, the leader was Renault-Nissan with 18.5% of market share, ahead of Volkswagen Group with 17.5%, Toyota with 12.8% and Hyundai-Kia with 9.9%.
As far as the best-selling models performance, the Geely Emgrand EC7 led the ranking with 1.103 sales followed by the Renault Logan with 978 (+18.6%), the Kia Sportage with 972 (+347.5%), the Toyota RAV4 with 936 (+104.5%) and the Toyota Corolla with 878 (+37.0%).
Below, you can sort our interactive tables to see data regarding Brands and Groups. Please bear in mind that sales data are subject to adjustments as sources will update their information. This report is updated at the publishing date and will not be modified while the next on this subject will always have the year to date data updated.
| Rank June | Rank H1 2016 | Brand | Sales June | Sales H1 2016 | Var June | Var H1 2016 | Share June | Share H1 2016 |
| --- | --- | --- | --- | --- | --- | --- | --- | --- |
| 1 | 1 | Toyota | 622 | 3.114 | 23,9% | 82,7% | 12,4% | 11,2% |
| 2 | 3 | Volkswagen | 500 | 2.164 | 164,6% | 84,5% | 10,0% | 7,8% |
| 3 | 4 | Skoda | 408 | 1.684 | 284,9% | 102,2% | 8,2% | 6,1% |
| 4 | 2 | Renault | 391 | 2.593 | -7,6% | 53,4% | 7,8% | 9,3% |
| 5 | 6 | BMW | 380 | 1.502 | 227,6% | 154,1% | 7,6% | 5,4% |
| 6 | 5 | Kia | 346 | 1.507 | 156,3% | 108,1% | 6,9% | 5,4% |
| 7 | 12 | Zaz | 205 | 1.063 | -19,3% | 5,4% | 4,1% | 3,8% |
| 8 | 7 | Nissan | 204 | 1.473 | -1,9% | 22,4% | 4,1% | 5,3% |
| 8 | 9 | Hyundai | 204 | 1.247 | 15,3% | 28,4% | 4,1% | 4,5% |
| 9 | 11 | Mercedes | 196 | 1.078 | 75,0% | 71,4% | 3,9% | 3,9% |
| 10 | 10 | Mazda | 147 | 1.086 | -16,0% | 20,3% | 2,9% | 3,9% |
| 11 | 15 | Suzuki | 130 | 708 | 103,1% | 46,3% | 2,6% | 2,5% |
| 12 | 8 | Ford | 125 | 1.300 | -16,1% | 40,4% | 2,5% | 4,7% |
| 13 | 14 | Audi | 121 | 732 | 51,3% | 115,3% | 2,4% | 2,6% |
| 14 | 13 | Lada | 115 | 997 | 161,4% | 125,6% | 2,3% | 3,6% |
| 15 | 17 | Lexus | 100 | 452 | 284,6% | 213,9% | 2,0% | 1,6% |
| 16 | 16 | Chevrolet | 82 | 546 | 110,3% | 90,2% | 1,6% | 2,0% |
| 17 | 18 | Peugeot | 81 | 432 | 8,0% | 0,5% | 1,6% | 1,6% |
| 18 | 20 | Citroen | 74 | 369 | 10,4% | 44,1% | 1,5% | 1,3% |
| 18 | 23 | Mitsubishi | 74 | 282 | 48,0% | -10,2% | 1,5% | 1,0% |
| 19 | 22 | Volvo | 60 | 293 | 500,0% | 190,1% | 1,2% | 1,1% |
| 20 | 19 | Land Rover | 43 | 417 | 2,4% | 55,0% | 0,9% | 1,5% |
| 21 | 31 | MAZ | 40 | 120 | 0,0% | -50,0% | 0,8% | 0,4% |
| 22 | 27 | Honda | 39 | 164 | -22,0% | -37,9% | 0,8% | 0,6% |
| 23 | 29 | Porsche | 30 | 152 | 100,0% | 68,9% | 0,6% | 0,5% |
| 23 | 30 | Seat | 30 | 133 | 36,4% | 68,4% | 0,6% | 0,5% |
| 24 | 25 | Gaz | 26 | 200 | 0,0% | 0,0% | 0,5% | 0,7% |
| 25 | 21 | Geely | 24 | 314 | -81,0% | -53,8% | 0,5% | 1,1% |
| 26 | 24 | Subaru | 23 | 254 | -32,4% | 29,6% | 0,5% | 0,9% |
| 27 | 26 | Fiat | 20 | 180 | -71,8% | -53,6% | 0,4% | 0,6% |
| 27 | 31 | Foton | 20 | 120 | 0,0% | 0,0% | 0,4% | 0,4% |
| 28 | 28 | Opel | 18 | 158 | 20,0% | 107,9% | 0,4% | 0,6% |
| 29 | 32 | Great Wall | 17 | 94 | 41,7% | -3,1% | 0,3% | 0,3% |
| 30 | 39 | Ruta | 15 | 45 | 0,0% | -50,0% | 0,3% | 0,2% |
| Rank June | Rank H1 2016 | Group | Sales June | Sales H1 2016 | Var June | Var H1 2016 | Share June | Share H1 2016 |
| --- | --- | --- | --- | --- | --- | --- | --- | --- |
| 1 | 2 | Volkswagen | 1.090 | 4.867 | 164,6% | 93,3% | 21,8% | 17,5% |
| 2 | 3 | Toyota | 722 | 3.566 | 36,7% | 93,0% | 14,4% | 12,8% |
| 2 | 1 | Renault-Nissan | 722 | 5.147 | 4,6% | 49,3% | 14,4% | 18,5% |
| 3 | 4 | Hyundai-Kia | 550 | 2.754 | 76,3% | 62,5% | 11,0% | 9,9% |
| 4 | 5 | BMW | 391 | 1.563 | 217,9% | 146,9% | 7,8% | 5,6% |
| 5 | 9 | Zaz | 205 | 1.063 | -19,3% | 5,4% | 4,1% | 3,8% |
| 6 | 7 | Mercedes Daimler | 199 | 1.096 | 76,1% | 72,6% | 4,0% | 3,9% |
| 7 | 11 | PSA | 155 | 801 | 9,2% | 16,8% | 3,1% | 2,9% |
| 8 | 8 | Mazda | 147 | 1.086 | -16,0% | 20,3% | 2,9% | 3,9% |
| 9 | 12 | Suzuki | 130 | 708 | 103,1% | 46,3% | 2,6% | 2,5% |
| 10 | 6 | Ford | 125 | 1.300 | -16,1% | 40,4% | 2,5% | 4,7% |
| 11 | 10 | General Motors | 102 | 803 | 17,2% | 59,6% | 2,0% | 2,9% |
| 12 | 13 | Geely Group | 84 | 607 | -38,2% | -22,2% | 1,7% | 2,2% |
| 13 | 15 | Mitsubishi | 74 | 282 | 48,0% | -10,2% | 1,5% | 1,0% |
| 14 | 14 | Tata | 57 | 472 | 7,0% | 44,3% | 1,1% | 1,7% |
| 15 | 19 | Honda | 40 | 179 | -26,3% | -40,8% | 0,8% | 0,6% |
| 15 | 20 | MAZ | 40 | 120 | 0,0% | -50,0% | 0,8% | 0,4% |
| 16 | 16 | FCA | 37 | 269 | -57,5% | -42,3% | 0,7% | 1,0% |
| 17 | 18 | GAZ Group | 26 | 200 | 0,0% | 0,0% | 0,5% | 0,7% |
| 18 | 17 | Fuji Heavy Industries | 23 | 254 | -32,4% | 29,6% | 0,5% | 0,9% |
| 19 | 20 | BAIC | 20 | 120 | 0,0% | 0,0% | 0,4% | 0,4% |
| 20 | 21 | Great Wall Motors | 17 | 94 | 41,7% | -3,1% | 0,3% | 0,3% |
| Rank June | Rank H1 2016 | Model | Sales June | Sales H1 2016 | Var June | Var H1 2016 |
| --- | --- | --- | --- | --- | --- | --- |
| 1 | 2 | Renault Logan | 262 | 978 | 33,1% | 18,6% |
| 2 | 14 | Volkswagen Polo | 240 | 648 | 103,4% | 449,2% |
| 3 | 1 | Geely Emgrand EC7 | 220 | 1.103 | 0,0% | 0,0% |
| 4 | 11 | Renault Duster | 179 | 723 | 160,2% | 93,0% |
| 5 | 8 | Volkswagen Jetta | 173 | 773 | 8550,0% | 2468,1% |
| 6 | 4 | Toyota RAV4 | 161 | 936 | 78,1% | 104,5% |
| 7 | 16 | Ford Fiesta | 138 | 548 | 39,1% | 131,6% |
| 8 | 3 | Kia Sportage | 121 | 972 | 24,5% | 347,5% |
| 9 | 9 | Fiat Doblo | 114 | 770 | 0,0% | 0,0% |
| 10 | 7 | Bogdan 110 | 107 | 789 | 0,0% | 0,0% |
| 11 | 17 | BMW X5 | 105 | 545 | 510,5% | 358,4% |
| 12 | 36 | ZAZ Forza | 100 | 300 | | |
| 13 | 24 | Suzuki Vitara | 89 | 396 | 256,0% | 164,0% |
| 13 | 27 | Hyundai Tucson | 89 | 365 | | |
| 14 | 5 | Toyota Corolla | 88 | 878 | -12,9% | 37,0% |
| 15 | 23 | Nissan Qashqai | 85 | 435 | 5,7% | 81,1% |
| 16 | 6 | Chevrolet Lacetti | 83 | 812 | 0,0% | 0,0% |
| 17 | 10 | Skoda Octavia | 82 | 749 | 310,0% | 144,7% |
| 18 | 38 | Hyundai Accent | 80 | 283 | | 157,3% |
| 18 | 50 | Volkswagen Touareg | 80 | 188 | 60,0% | -5,7% |
| 18 | 42 | ZAZ Lanos | 80 | 243 | -2,0% | -72,5% |
| 19 | 26 | Skoda Rapid | 79 | 367 | -10,2% | 17,4% |
| 20 | 41 | BMW 5 Series | 77 | 257 | | 766,8% |
| 21 | 12 | Geely MK | 70 | 680 | 0,0% | 0,0% |
| 22 | 19 | Toyota Prado | 69 | 533 | 0,0% | -3,6% |
| 23 | 18 | GAZ Gazelle | 65 | 544 | 0,0% | 0,0% |
| 24 | 33 | Mazda3 | 65 | 320 | 364,3% | 182,3% |
| 25 | 32 | Ford Kuga | 64 | 333 | | -39,1% |
| 26 | 44 | Toyota Land Cruiser | 51 | 220 | 46,6% | 84,8% |
| 27 | 22 | Toyota Camry | 50 | 438 | -26,0% | -35,9% |
| 28 | 34 | Ford Transit | 48 | 311 | 0,0% | 0,0% |
| 29 | 31 | Chevrolet Niva | 48 | 336 | 566,7% | 451,7% |
| 30 | 47 | Lexus RX | 44 | 203 | | 376,0% |
| 30 | 13 | Lada 4×4 | 44 | 662 | -17,3% | 255,8% |
| 31 | 29 | Nissan X-Trail | 43 | 353 | 15,6% | -19,7% |
| 32 | 82 | Volkswagen Golf | 40 | 105 | 0,0% | -34,4% |
| 33 | 39 | Volkswagen Caddy | 40 | 280 | 0,0% | 0,0% |
| 34 | 20 | Renault Sandero | 38 | 468 | -35,4% | 22,0% |
| 34 | 45 | Ford Focus | 38 | 208 | -56,2% | -34,6% |
| 34 | 48 | Volkswagen Passat | 38 | 196 | 0,0% | 29,8% |
| 35 | 15 | Geely MK-2/Cross | 37 | 550 | 0,0% | 0,0% |
| 36 | 66 | Volkswagen Tiguan | 37 | 137 | -14,4% | -8,5% |
| 37 | 37 | Skoda Fabia | 36 | 291 | | |
| 38 | 35 | Mercedes ML Class | 35 | 311 | 0,0% | 0,0% |
| 39 | 88 | Zaz Vida | 34 | 97 | | |
| 40 | 40 | Hyundai Santa fe | 33 | 261 | -60,5% | -20,1% |
| 40 | 104 | Peugeot 208 | 33 | 70 | -4,1% | 33,3% |
| 41 | 21 | Mercedes GLE | 32 | 441 | 60,0% | 267,5% |
| 42 | 73 | Peugeot 2008 | 30 | 125 | 150,0% | 73,6% |
| 43 | 51 | Mercedes GL Class | 28 | 185 | 0,0% | 0,0% |
| 44 | 30 | Mazda6 | 28 | 349 | 0,0% | 38,4% |
| 45 | 42 | ZAZ Sens | 26 | 243 | 0,0% | 1,3% |
| 45 | 53 | Hyundai Elantra | 26 | 176 | | -30,5% |
| 45 | 103 | Suzuki Grand Vitara | 26 | 72 | 1525,0% | -68,9% |
| 46 | 76 | Honda CR-V | 25 | 117 | -64,7% | -6,6% |
| 46 | 62 | Nissan Leaf | 25 | 147 | 257,1% | 250,0% |
| 47 | 102 | Porsche Cayenne | 23 | 73 | 0,0% | 217,4% |
| 47 | 57 | BMW X6 | 23 | 162 | 91,7% | 123,4% |
| 48 | 28 | Audi Q7 | 22 | 358 | 34,1% | 60,8% |
| 48 | 63 | Volvo XC90 | 22 | 146 | 96,4% | 860,5% |
| 49 | 77 | Citroen C4 Cactus | 21 | 114 | 88,1% | 70,1% |
| 50 | 70 | Renault Master | 21 | 130 | 0,0% | 0,0% |
| 50 | 71 | Citroen Berlingo | 21 | 129 | 0,0% | 0,0% |
(250)