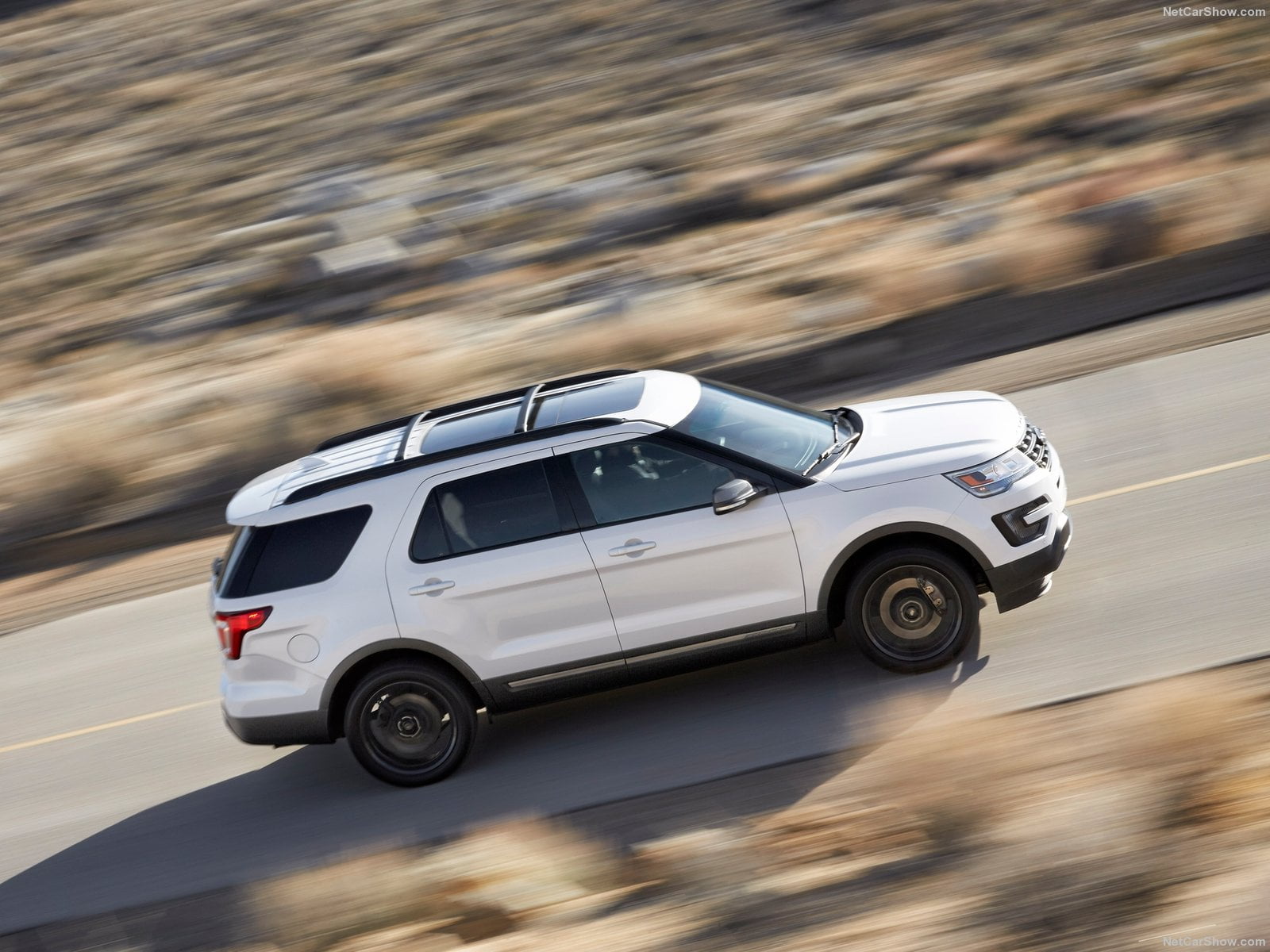 US Vehicles Sales in March were shy. Ford outsells GM, first time in 5 years, thanks to a robust increase in fleet sales while the rival has lost. Volkswagen down for the 5th month in a row. Hyundai Sonata the fastest.
Although reporting a 3 percent progress, March 2016 was almost disappointing for the US automotive industry, reporting the lowest SAAR in the last 13 months and confirming that the market could be flat this year, while observers consensus was for a new record.
March sales were 1.595.122 (+3.2%) and the first quarter ended above last year by 130.000 vehicles at 4.087.115 sales, up 3.3%.
In March Ford kept momentum with sales at 243.375, up 7.6% with market share over 15%. Q1 sales were 616.682 (+8.1%) projecting a new all-time record sales for this year. Toyota was second again with at 182.383 sales (-4.3%) keeping on the shoulder the rival Chevrolet, third with 176.283 (+1.4%).
Nissan was fourth with 149.784 (+13.0%) ahead of Honda with 123.369 (+10.5%), Jeep with 82.337 (+15.0%), Hyundai with 75.310 (+0.4%) and Kia with 58.279 (-0.8%).
At Group level, Ford Motor Company was the top-selling automaker last month for the first time in five years, outselling General Motors by 936 vehicles. Fleet sales made the difference, with Ford's rising 39% and GM's dropping 13%.
The best-selling model, the Ford F Series gained 9.1% at 73.884 units in a podium entirely dominated by pick ups with the Chevrolet Silverado up 6.1% to 47.966 and the Ran Pick up up 7.9% at 44.874.  The Hyundai Sonata in 11th place was one of the fastest growing model. In the table below the top 50 models in March
To see details on the best-selling 100 models in the US, please see the related article.
Wishing to enter in details of 2012-2015 data and/or looking at our 2016-2020 forecast for US market, give a look here.
| Rank Mar | Rank Q1 | Brand | Mar | Q1 | Mar Var | Q1 Var | Mar% | Q1% |
| --- | --- | --- | --- | --- | --- | --- | --- | --- |
| 1 | 1 | Ford | 243.375 | 616.682 | 7,6% | 8,1% | 15,3% | 15,1% |
| 2 | 2 | Toyota | 182.383 | 476.616 | -4,3% | -2,0% | 11,4% | 11,7% |
| 3 | 3 | Chevrolet | 176.283 | 472.730 | 1,4% | -0,9% | 11,1% | 11,6% |
| 4 | 4 | Nissan | 149.784 | 367.544 | 13,0% | 10,1% | 9,4% | 9,0% |
| 5 | 5 | Honda | 123.369 | 319.828 | 10,5% | 8,7% | 7,7% | 7,8% |
| 6 | 6 | Jeep | 82.337 | 209.597 | 15,0% | 17,3% | 5,2% | 5,1% |
| 7 | 7 | Hyundai | 75.310 | 173.330 | 0,4% | 0,8% | 4,7% | 4,2% |
| 8 | 8 | Kia | 58.279 | 146.321 | -0,8% | 3,7% | 3,7% | 3,6% |
| 9 | 9 | Dodge | 51.149 | 140.509 | 11,1% | 13,8% | 3,2% | 3,4% |
| 10 | 11 | Ram | 49.990 | 126.313 | 11,0% | 14,4% | 3,1% | 3,1% |
| 11 | 10 | Subaru | 49.285 | 132.397 | 0,4% | 0,9% | 3,1% | 3,2% |
| 12 | 12 | GMC | 44.585 | 121.048 | 6,9% | 1,0% | 2,8% | 3,0% |
| 13 | 13 | Mercedes | 31.236 | 83.009 | -3,3% | -0,8% | 2,0% | 2,0% |
| 14 | 14 | Lexus | 30.198 | 74.221 | -2,8% | -3,8% | 1,9% | 1,8% |
| 15 | 15 | BMW | 30.033 | 70.613 | -12,5% | -10,0% | 1,9% | 1,7% |
| 16 | 16 | Volkswagen | 26.914 | 69.314 | -10,4% | -12,5% | 1,7% | 1,7% |
| 17 | 17 | Chrysler | 26.236 | 65.506 | -12,7% | -20,0% | 1,6% | 1,6% |
| 18 | 18 | Mazda | 23.396 | 64.643 | -27,2% | -17,2% | 1,5% | 1,6% |
| 19 | 20 | Audi | 18.392 | 41.690 | 7,5% | 4,0% | 1,2% | 1,0% |
| 20 | 19 | Buick | 18.207 | 54.287 | -11,3% | 7,5% | 1,1% | 1,3% |
| 21 | 21 | Acura | 14.852 | 37.875 | 1,2% | -4,5% | 0,9% | 0,9% |
| 22 | 23 | Infiniti | 13.775 | 32.660 | 10,0% | -3,5% | 0,9% | 0,8% |
| 23 | 22 | Cadillac | 13.053 | 35.633 | -5,1% | -4,1% | 0,8% | 0,9% |
| 24 | 24 | Mitsubishi | 11.078 | 25.212 | 13,5% | 6,0% | 0,7% | 0,6% |
| 25 | 25 | Lincoln | 9.689 | 24.905 | 11,4% | 16,0% | 0,6% | 0,6% |
| 26 | 26 | Land Rover | 8.733 | 20.805 | 28,8% | 22,6% | 0,5% | 0,5% |
| 27 | 27 | Scion | 7.261 | 18.242 | 64,1% | 52,3% | 0,5% | 0,4% |
| 28 | 28 | Volvo | 6.857 | 16.361 | 15,9% | 19,2% | 0,4% | 0,4% |
| 29 | 30 | Mini | 4.762 | 10.839 | -18,3% | -15,2% | 0,3% | 0,3% |
| 30 | 29 | Porsche | 4.323 | 12.238 | 0,7% | 7,1% | 0,3% | 0,3% |
| 31 | 31 | Fiat | 3.422 | 9.009 | -23,9% | -18,4% | 0,2% | 0,2% |
| 32 | 32 | Tesla | 2.500 | 7.150 | 72,1% | 42,5% | 0,2% | 0,2% |
| 33 | 33 | Jaguar | 2.133 | 4.997 | 28,5% | 15,2% | 0,1% | 0,1% |
| 34 | 34 | Maserati | 997 | 2.250 | 0,1% | 16,6% | 0,1% | 0,1% |
| 35 | 35 | Smart | 479 | 1.300 | -17,8% | -15,2% | 0,0% | 0,0% |
| 36 | 36 | Ferrari | 135 | 485 | 75,3% | -26,1% | 0,0% | 0,0% |
| 37 | 38 | Bentley | 119 | 262 | -45,9% | -48,8% | 0,0% | 0,0% |
| 38 | 37 | Rolls-Royce | 80 | 274 | -20,0% | 7,9% | 0,0% | 0,0% |
| 39 | 39 | Lamborghini | 60 | 211 | -4,8% | 11,6% | 0,0% | 0,0% |
| 40 | 40 | Alfa Romeo | 53 | 169 | -27,4% | -22,1% | 0,0% | 0,0% |
| 41 | 41 | Lotus | 20 | 55 | -20,0% | -26,7% | 0,0% | 0,0% |
| Rank Mar | Rank Q1 | Group | Mar | Q1 | Mar Var | Q1 Var | Mar% | Q1% |
| --- | --- | --- | --- | --- | --- | --- | --- | --- |
| 1 | 2 | Ford | 253.064 | 641.587 | 7,8% | 8,4% | 15,9% | 15,7% |
| 2 | 1 | General Motors | 252.128 | 683.698 | 0,9% | -0,1% | 15,8% | 16,7% |
| 3 | 3 | Toyota | 219.842 | 569.079 | -2,7% | -1,1% | 13,8% | 13,9% |
| 4 | 4 | FCA | 214.319 | 553.838 | 8,1% | 8,9% | 13,4% | 13,6% |
| 5 | 5 | Renault-Nissan | 163.559 | 400.204 | 12,7% | 8,9% | 10,3% | 9,8% |
| 6 | 6 | Honda | 138.221 | 357.703 | 9,4% | 7,1% | 8,7% | 8,8% |
| 7 | 7 | Hyundai-Kia | 133.589 | 319.651 | -0,2% | 2,1% | 8,4% | 7,8% |
| 8 | 9 | Volkswagen | 49.808 | 123.715 | -3,7% | -5,9% | 3,1% | 3,0% |
| 9 | 8 | Fuji Heavy Industries | 49.285 | 132.397 | 0,4% | 0,9% | 3,1% | 3,2% |
| 10 | 11 | BMW | 34.875 | 81.726 | -13,3% | -10,7% | 2,2% | 2,0% |
| Rank Mar | Rank Q1 | Model | Mar | Q1 | Mar Var | Q1 Var | Mar% | Q1% |
| --- | --- | --- | --- | --- | --- | --- | --- | --- |
| 1 | 1 | Ford F-Series | 73.884 | 186.121 | 9,1% | 5,0% | 4,6% | 4,6% |
| 2 | 2 | Chevrolet Silverado | 47.966 | 128.965 | 6,1% | 1,8% | 3,0% | 3,2% |
| 3 | 3 | Ram Pick-up | 44.874 | 113.367 | 7,9% | 11,7% | 2,8% | 2,8% |
| 4 | 4 | Toyota Camry | 36.991 | 96.244 | -9,3% | -4,2% | 2,3% | 2,4% |
| 5 | 6 | Nissan Altima | 34.856 | 85.332 | 8,9% | -1,8% | 2,2% | 2,1% |
| 6 | 5 | Honda Civic | 32.855 | 87.303 | 21,8% | 30,8% | 2,1% | 2,1% |
| 7 | 7 | Toyota Corolla | 32.556 | 84.260 | -8,4% | -7,1% | 2,0% | 2,1% |
| 8 | 8 | Honda Accord | 30.523 | 77.073 | 17,3% | 12,3% | 1,9% | 1,9% |
| 9 | 10 | Ford Fusion | 29.675 | 74.994 | 2,2% | 4,9% | 1,9% | 1,8% |
| 10 | 9 | Toyota RAV4 | 29.045 | 76.122 | 15,1% | 13,6% | 1,8% | 1,9% |
| 11 | 16 | Hyundai Sonata | 28.778 | 61.457 | 56,9% | 37,5% | 1,8% | 1,5% |
| 12 | 11 | Ford Escape | 28.521 | 71.594 | 8,4% | 6,4% | 1,8% | 1,8% |
| 13 | 13 | Nissan Rogue | 27.713 | 69.036 | 1,1% | 7,1% | 1,7% | 1,7% |
| 14 | 12 | Honda CR-V | 26.730 | 71.188 | -3,2% | -2,7% | 1,7% | 1,7% |
| 15 | 15 | Nissan Sentra | 26.201 | 62.944 | 23,1% | 23,4% | 1,6% | 1,5% |
| 16 | 14 | Ford Explorer | 24.412 | 63.415 | 5,9% | 8,0% | 1,5% | 1,6% |
| 17 | 18 | Chevrolet Malibu | 22.058 | 58.222 | 33,3% | 37,3% | 1,4% | 1,4% |
| 18 | 19 | GMC Sierra | 21.548 | 51.131 | 23,9% | 13,2% | 1,3% | 1,3% |
| 19 | 17 | Chevrolet Equinox | 21.480 | 59.879 | -11,7% | -8,7% | 1,3% | 1,5% |
| 20 | 21 | Jeep Cherokee | 19.170 | 49.534 | 0,7% | 2,7% | 1,2% | 1,2% |
| 21 | 20 | Ford Focus | 18.618 | 50.215 | -9,2% | -5,2% | 1,2% | 1,2% |
| 22 | 22 | Jeep Grand Cherokee | 18.506 | 47.050 | 10,1% | 8,5% | 1,2% | 1,2% |
| 23 | 24 | Jeep Wrangler | 17.710 | 41.741 | 1,1% | -0,9% | 1,1% | 1,0% |
| 24 | 23 | Toyota Tacoma | 17.687 | 44.586 | 11,3% | 12,4% | 1,1% | 1,1% |
| 25 | 25 | Hyundai Elantra | 17.505 | 39.363 | -39,2% | -30,6% | 1,1% | 1,0% |
| 26 | 30 | Nissan Versa | 16.244 | 36.499 | 11,7% | -1,3% | 1,0% | 0,9% |
| 27 | 26 | Toyota Highlander | 14.949 | 38.673 | 14,6% | 9,4% | 0,9% | 0,9% |
| 28 | 31 | Ford Transit | 14.895 | 36.022 | 52,8% | 57,4% | 0,9% | 0,9% |
| 29 | 27 | Subaru Forester | 14.284 | 38.427 | -4,6% | 2,1% | 0,9% | 0,9% |
| 30 | 28 | Subaru Outback | 14.122 | 37.271 | 12,9% | 5,0% | 0,9% | 0,9% |
| 31 | 32 | Ford Edge | 14.005 | 35.993 | 48,9% | 53,1% | 0,9% | 0,9% |
| 32 | 36 | Chrysler Town & Country | 13.586 | 31.616 | 147,5% | 59,1% | 0,9% | 0,8% |
| 33 | 34 | Dodge Grand Caravan | 12.925 | 33.712 | 116,9% | 99,3% | 0,8% | 0,8% |
| 34 | 38 | Ford Mustang | 12.563 | 30.136 | -0,8% | 1,1% | 0,8% | 0,7% |
| 35 | 35 | Kia Soul | 12.043 | 33.076 | -5,4% | 7,3% | 0,8% | 0,8% |
| 36 | 33 | Toyota Sienna | 11.996 | 34.529 | -6,7% | 5,5% | 0,8% | 0,8% |
| 37 | 39 | Kia Optima | 11.725 | 29.768 | -24,3% | -18,4% | 0,7% | 0,7% |
| 38 | 37 | Chevrolet Impala | 11.465 | 30.554 | 28,2% | 12,2% | 0,7% | 0,7% |
| 39 | 44 | Honda Odyssey | 11.224 | 27.439 | 0,7% | 1,3% | 0,7% | 0,7% |
| 40 | 45 | Chevrolet Traverse | 10.747 | 26.919 | -3,2% | -13,0% | 0,7% | 0,7% |
| 41 | 41 | Honda Pilot | 10.593 | 28.726 | -11,3% | -22,1% | 0,7% | 0,7% |
| 42 | 42 | Volkswagen Jetta | 10.471 | 28.023 | -9,6% | -10,6% | 0,7% | 0,7% |
| 43 | 51 | Kia Forte | 10.406 | 23.922 | 38,1% | 22,6% | 0,7% | 0,6% |
| 44 | 48 | Toyota Tundra | 10.002 | 25.535 | -13,1% | -11,2% | 0,6% | 0,6% |
| 45 | 46 | Dodge Journey | 9.986 | 26.421 | 8,3% | 10,2% | 0,6% | 0,6% |
| 46 | 49 | Kia Sorento | 9.897 | 24.693 | -8,7% | -8,2% | 0,6% | 0,6% |
| 47 | 29 | Chevrolet Cruze | 9.881 | 37.241 | -58,1% | -38,5% | 0,6% | 0,9% |
| 48 | 40 | Jeep Patriot | 9.837 | 28.747 | -17,0% | -3,2% | 0,6% | 0,7% |
| 49 | 43 | Dodge Charger | 9.817 | 27.746 | 11,2% | 5,8% | 0,6% | 0,7% |
| 50 | 54 | Chevrolet Colorado | 9.718 | 22.620 | 46,8% | 18,3% | 0,6% | 0,6% |
(591)